CRYSTAL POINT PENDANT
Regular price
Sale price
$370.00
Unit price
per
YOUR STONE: CITRINE
YOUR METAL: 14K YELLOW GOLD
YOUR LENGTH: NO CHAIN
DESCRIPTION

Limited edition citrine crystal point necklace. Crystals have been used for centuries for unique healing, energetic, and cleansing properties, as talismans and pendulums. Named for the French word Citron or Lemon. Natural citrine color is caused by iron impurities in Quartz but is very rare and most citrine is the result of heating amethyst. Sometimes called the "merchants stone" or "abundance stone" and thought to bring success. 
DIMENSIONS

30mm x 8mm Crystals, width and length can vary slightly. 1mm Rolo Chain. Lobster Clap.
NATURAL GEMSTONE

6-Sided Citrine Crystal, Single Point.
METAL

1.2g 14k Solid Yellow Gold.
CARE

Since gemstones like rubies, sapphires, aquamarines, tourmalines and other stones originate from a wide variety of raw materials with different hardness and durability. Despite the wide range of raw materials, there are some basic rules that apply to the majority of gemstone jewelry items. The biggest rule for gemstone jewelry is to avoid hot water and chemicals like chlorine, bleach, ammonia and hair spray. Many colored stones are sensitive to high heats and/or can be unknowingly treated which will react with heat and chemicals.
SHIPPING & RETURNS

Shipping Policy:

- Free USPS (5 business days) shipping on domestic orders $200+  

- International shipping available to select countries!

- Orders over $200 require signature for delivery.

- Most of our pieces are handmade to order just for you. Our stock pieces usually take 1-2 weeks to make. Any order with engraving or personalized stone arrangements usually take 2-3 weeks to make. Bespoke Gems and custom orders typically take 6-8 weeks before shipping.

Rush orders or in stock items may ship faster, please email hello@starlingjewelry.com for availability.  

Return Policy:

- All engraved or custom pieces, bespoke gems, one of a kind pieces, compass charms, sample sale or international orders are final sale.

- 14-Day Returns/Exchanges For Domestic Orders ($10 return shipping fee)

For more detailed information on our shipping & returns policy, click here!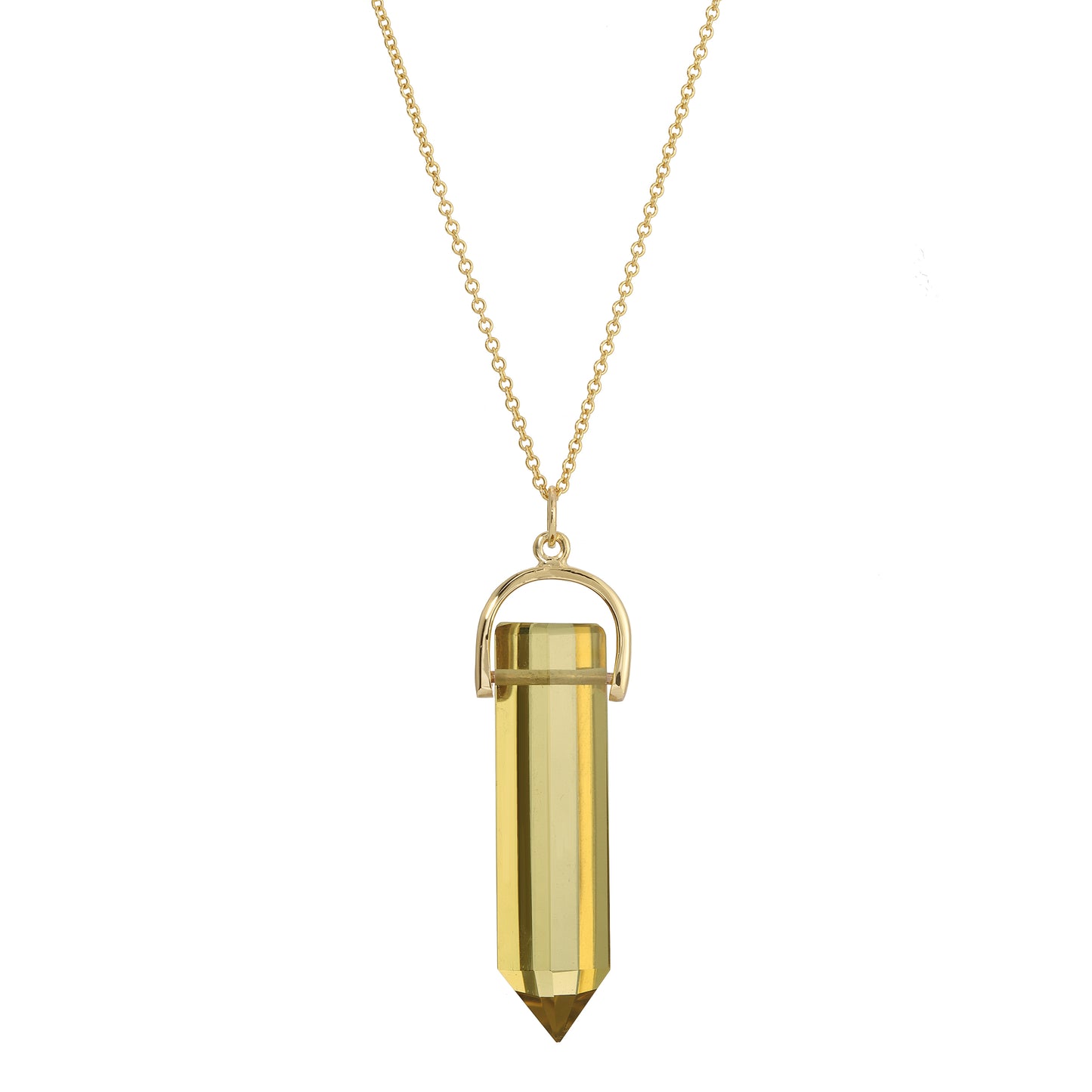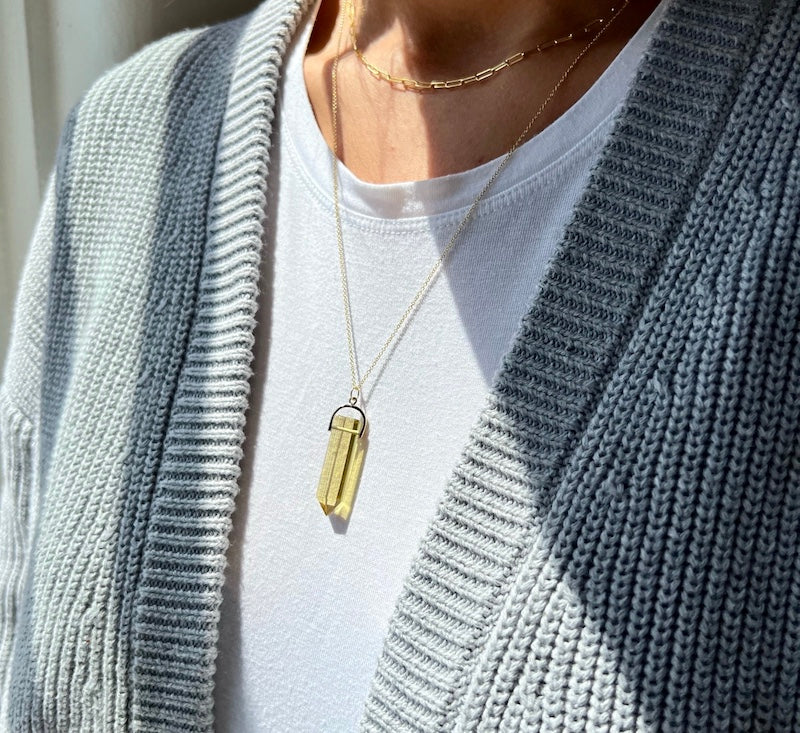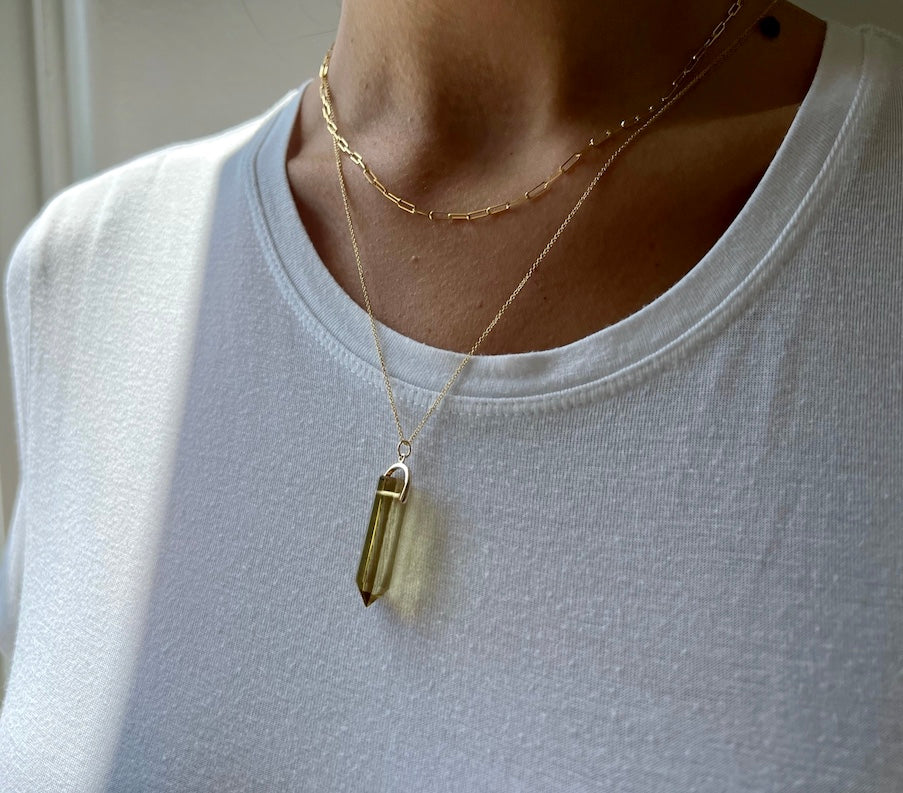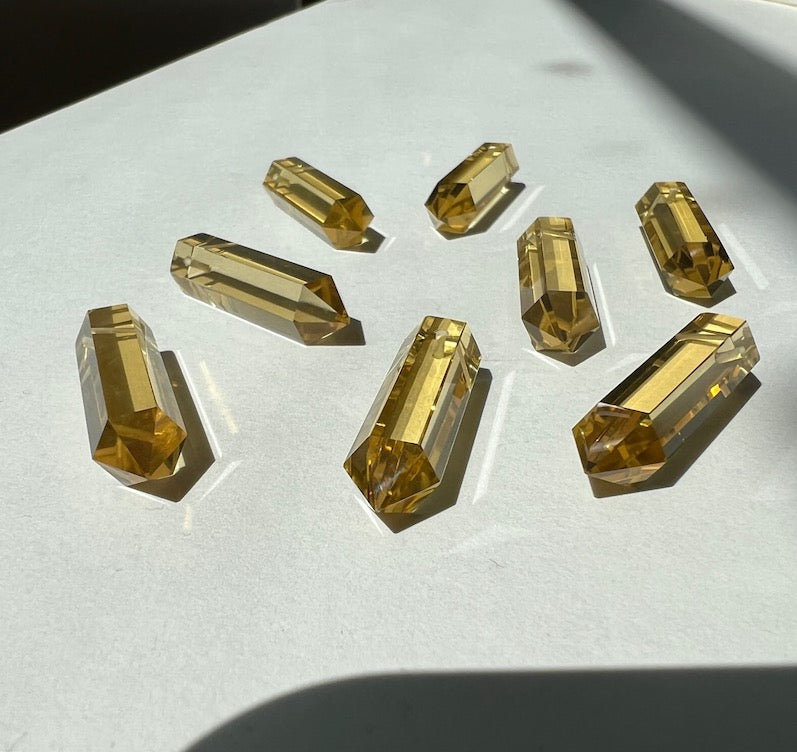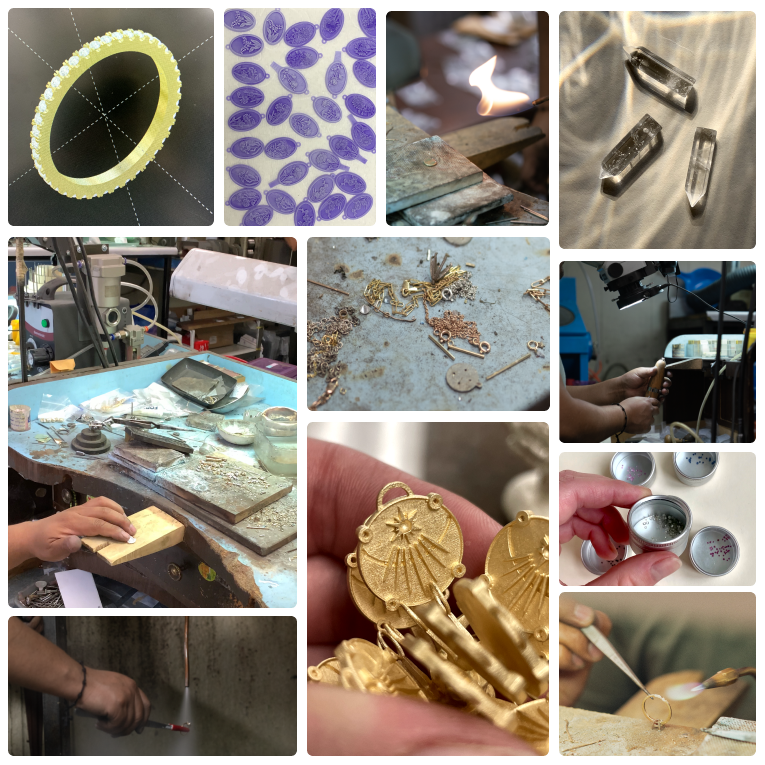 We are proud to say all of our jewelry is handmade in Downtown Los Angeles. Every little detail is done by hand, from refining old gold pieces, reclaiming diamonds, sketching, creating 3D CADs, printing wax models, making molds, lost wax casting with our recycled 14k gold, tumbling the metal casting, sanding, soldering, polishing, setting, engraving and finishing. Each piece is handled with care as it arrives to you, including folding every box, tying every ribbon, and shipping with services we trust.
MORE TO LOVE
Regular price

From $550.00

Regular price

Sale price

From $550.00

Unit price

per

Regular price

Sale price

$950.00

Unit price

per

Regular price

From $140.00

Regular price

Sale price

From $140.00

Unit price

per

Regular price

From $360.00

Regular price

Sale price

From $360.00

Unit price

per

Regular price

From $880.00

Regular price

Sale price

From $880.00

Unit price

per

Regular price

From $3,940.00

Regular price

Sale price

From $3,940.00

Unit price

per

Regular price

Sale price

$600.00

Unit price

per

Regular price

From $1,570.00

Regular price

Sale price

From $1,570.00

Unit price

per

Regular price

From $250.00

Regular price

Sale price

From $250.00

Unit price

per

Regular price

From $200.00

Regular price

Sale price

From $200.00

Unit price

per

Regular price

From $115.00

Regular price

Sale price

From $115.00

Unit price

per

Regular price

From $180.00

Regular price

Sale price

From $180.00

Unit price

per

Regular price

From $690.00

Regular price

$520.00

Sale price

From $690.00

Unit price

per

Regular price

From $610.00

Regular price

Sale price

From $610.00

Unit price

per

Regular price

Sale price

$540.00

Unit price

per

Regular price

From $400.00

Regular price

Sale price

From $400.00

Unit price

per

Regular price

From $370.00

Regular price

Sale price

From $370.00

Unit price

per

Regular price

From $640.00

Regular price

Sale price

From $640.00

Unit price

per

Regular price

From $570.00

Regular price

Sale price

From $570.00

Unit price

per

Regular price

From $490.00

Regular price

Sale price

From $490.00

Unit price

per

Regular price

From $610.00

Regular price

Sale price

From $610.00

Unit price

per

Regular price

From $2,980.00

Regular price

$520.00

Sale price

From $2,980.00

Unit price

per

Regular price

From $370.00

Regular price

Sale price

From $370.00

Unit price

per

Regular price

From $410.00

Regular price

Sale price

From $410.00

Unit price

per

Regular price

From $400.00

Regular price

Sale price

From $400.00

Unit price

per

Regular price

From $610.00

Regular price

Sale price

From $610.00

Unit price

per

Regular price

From $504.00

Regular price

$630.00

Sale price

From $504.00

Unit price

per

Regular price

From $140.00

Regular price

Sale price

From $140.00

Unit price

per

Regular price

From $610.00

Regular price

Sale price

From $610.00

Unit price

per

Regular price

From $170.00

Regular price

Sale price

From $170.00

Unit price

per

Regular price

From $370.00

Regular price

Sale price

From $370.00

Unit price

per

Regular price

From $610.00

Regular price

Sale price

From $610.00

Unit price

per

Regular price

From $610.00

Regular price

Sale price

From $610.00

Unit price

per

Regular price

From $610.00

Regular price

Sale price

From $610.00

Unit price

per

Regular price

From $610.00

Regular price

Sale price

From $610.00

Unit price

per

Regular price

From $610.00

Regular price

Sale price

From $610.00

Unit price

per

Regular price

From $400.00

Regular price

Sale price

From $400.00

Unit price

per

Regular price

From $610.00

Regular price

Sale price

From $610.00

Unit price

per

Regular price

From $530.00

Regular price

Sale price

From $530.00

Unit price

per

Regular price

From $610.00

Regular price

Sale price

From $610.00

Unit price

per

Regular price

From $370.00

Regular price

Sale price

From $370.00

Unit price

per

Regular price

From $380.00

Regular price

Sale price

From $380.00

Unit price

per

Regular price

From $610.00

Regular price

Sale price

From $610.00

Unit price

per

Regular price

From $320.00

Regular price

Sale price

From $320.00

Unit price

per

Regular price

From $370.00

Regular price

Sale price

From $370.00

Unit price

per

Regular price

From $610.00

Regular price

Sale price

From $610.00

Unit price

per

Regular price

From $380.00

Regular price

Sale price

From $380.00

Unit price

per