SIGNATURE HEART CHARM
Regular price
Sale price
$880.00
Unit price
per
YOUR METAL: 14K YELLOW GOLD
YOUR CHAIN: NO CHAIN
YOUR ENGRAVING TEXT:
OR
DESCRIPTION

The Signature Heart Charm features custom signatures or love notes written by your loved ones! The ultimate personalization - you can upload an image of your handwriting or select stock script font and enter the text. Swipe to see some heart warming signatures from our beloved family members.

Inspired by a vintage charm shape, our latest creation is designed to be a sentimental reminder of the love you hold close to your heart.

Signatures on cards, notes that were written to you, or a line from your favorite poem are perfect ways to customize this sweet charm.

ENGRAVING & HANDWRITING REQUIREMENTS:
- Engraving may be up to 2 lines, each line can have up to 10 characters
- Image uploaded must be of handwriting
- Image must be 12MB or smaller

If we have any issues with your uploaded image, we will contact you at the email used to place your order.


DIMENSIONS

22.4mm tall x 20.4mm wide
METAL

3.3-3.8g Solid 14k Gold. 14k Yellow Gold is 100% Post-Consumer Recycled.
4-4.5g 100% Post-Consumer Recycled Sterling Silver.
CARE

14K Gold:
Solid 14-karat gold can sustain daily wear and will generally not tarnish. Clean with an organic cleaning solution, rinse with warm water, air dry and polish with a lint-free polishing cloth.

Learn more about caring for metals here.
SHIPPING & RETURNS

Shipping Policy:

- Free USPS (5 business days) shipping on domestic orders $200+  

- International shipping available to select countries!

- Orders over $200 require signature for delivery.

- Most of our pieces are handmade to order just for you. Our stock pieces usually take 1-2 weeks to make. Any order with engraving or personalized stone arrangements usually take 2-3 weeks to make. Bespoke Gems and custom orders typically take 6-8 weeks before shipping.

Rush orders or in stock items may ship faster, please email hello@starlingjewelry.com for availability.  

Return Policy:

- All engraved or custom pieces, bespoke gems, one of a kind pieces, compass charms, sample sale or international orders are final sale.

- 14-Day Returns/Exchanges For Domestic Orders ($10 return shipping fee)

For more detailed information on our shipping & returns policy, click here!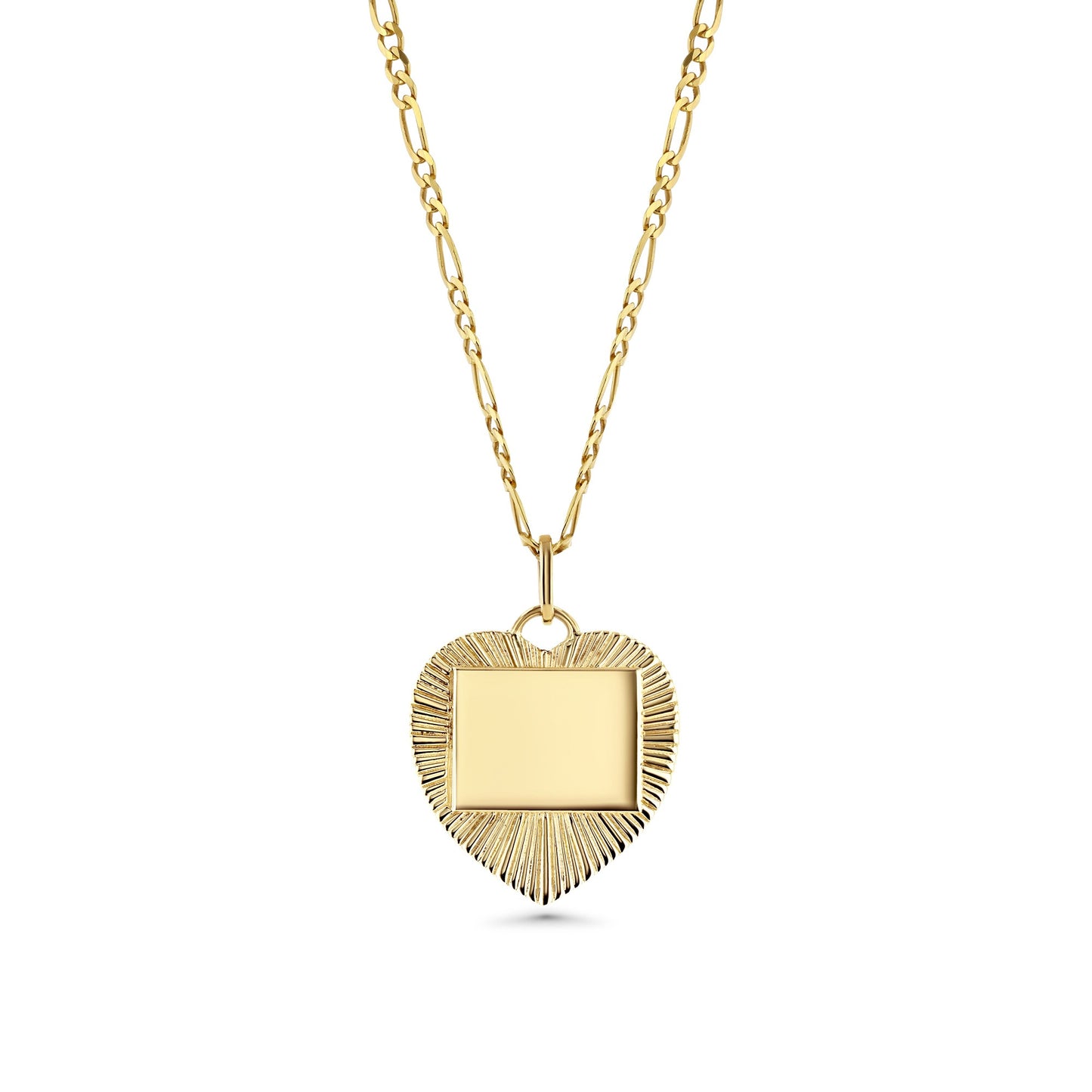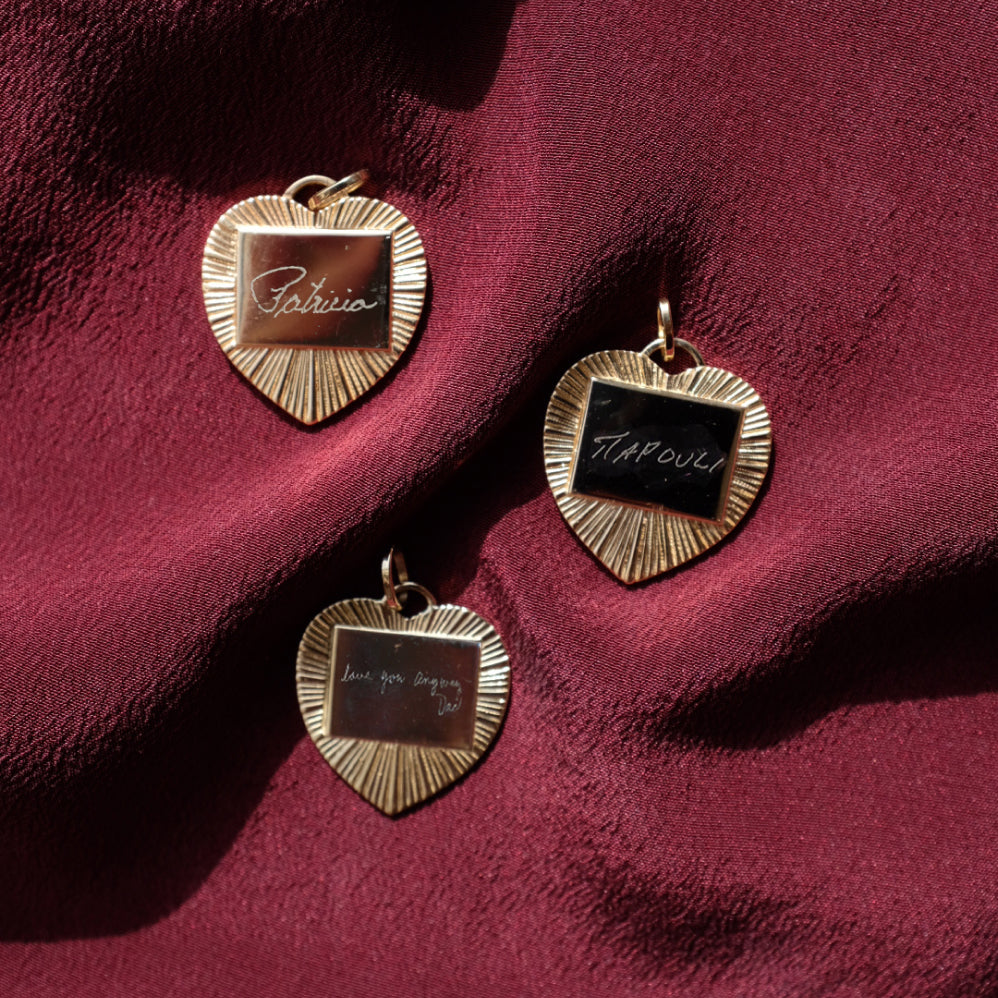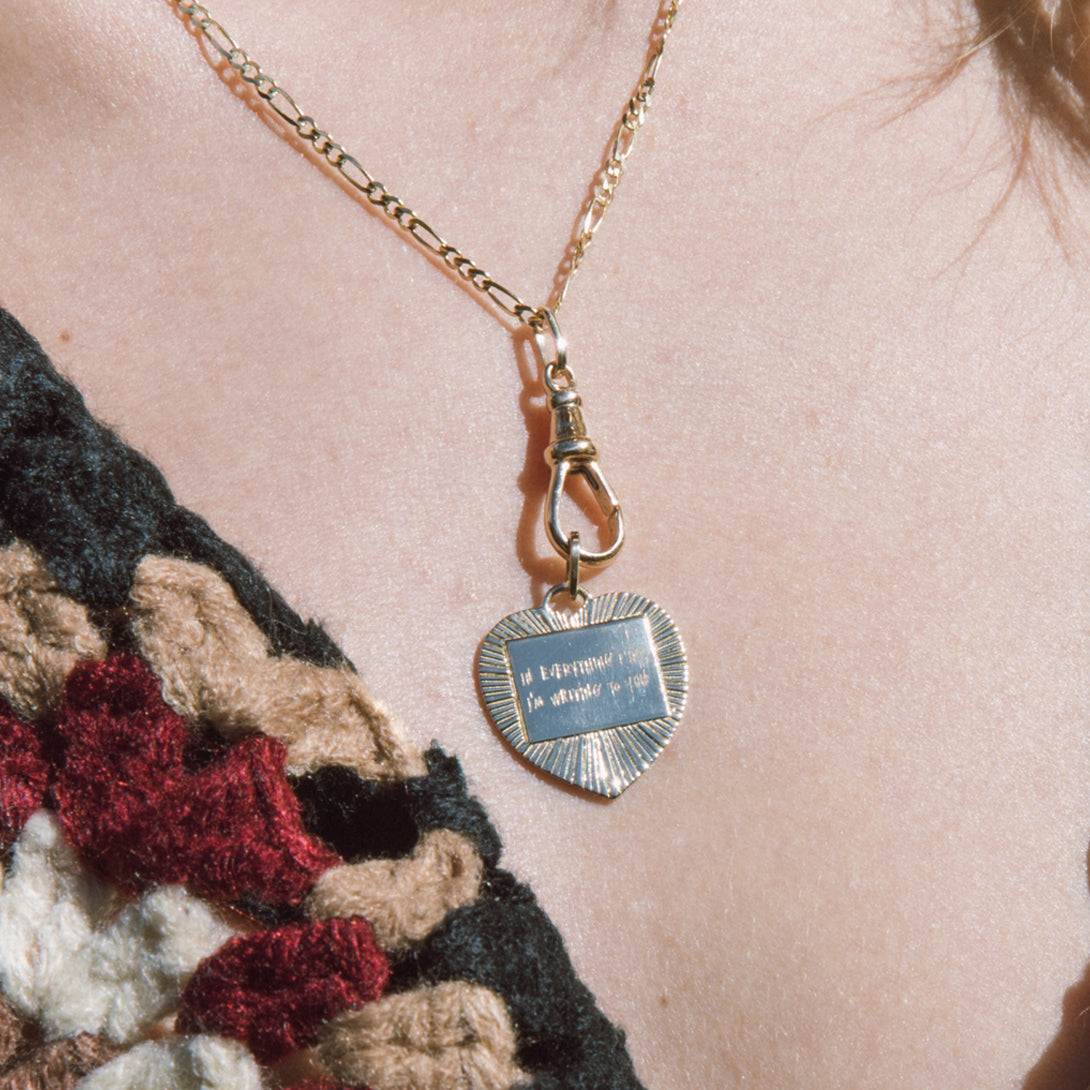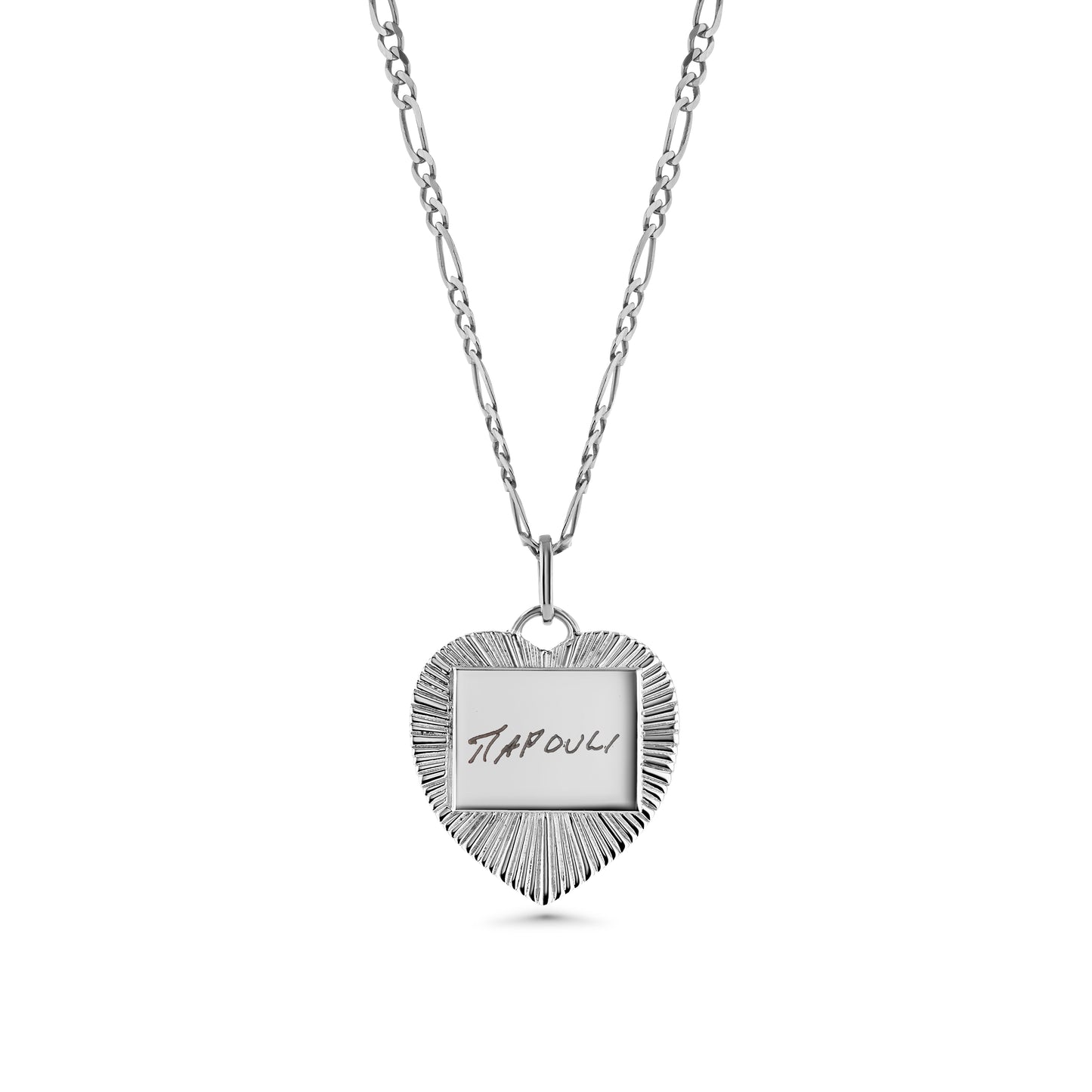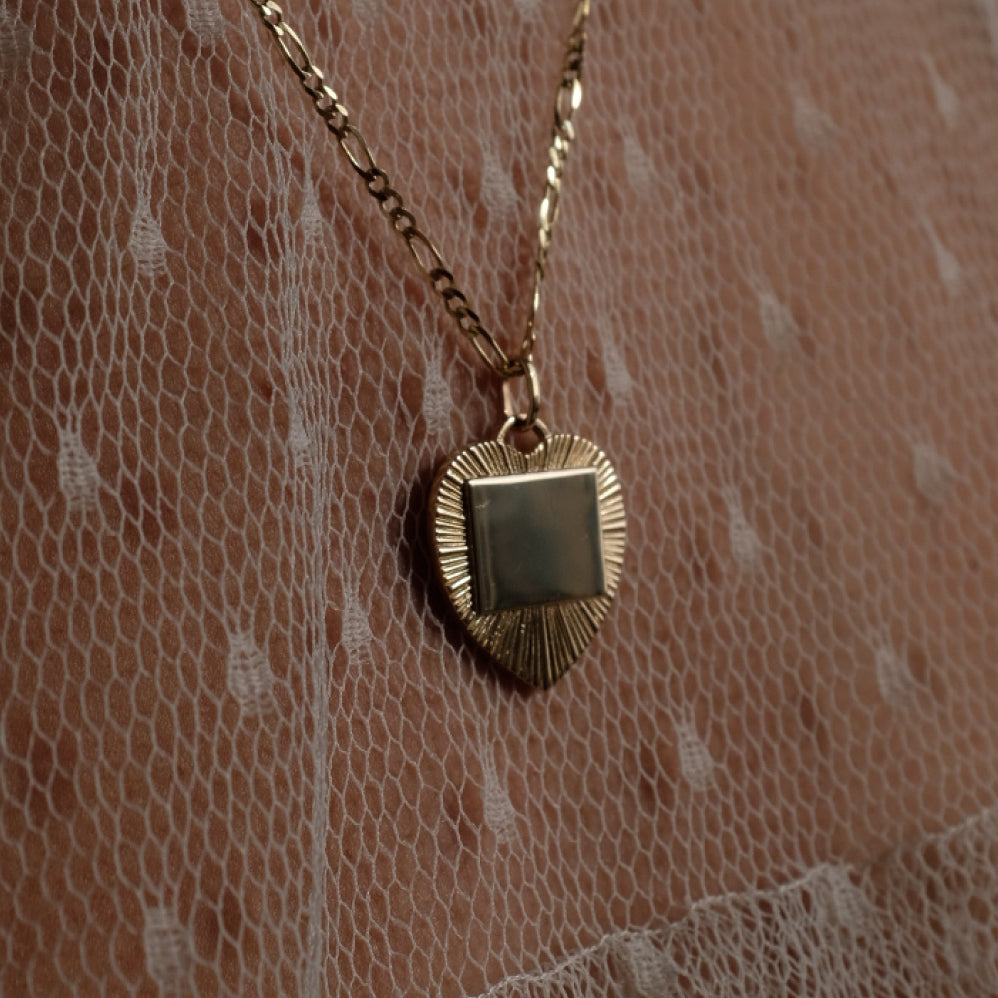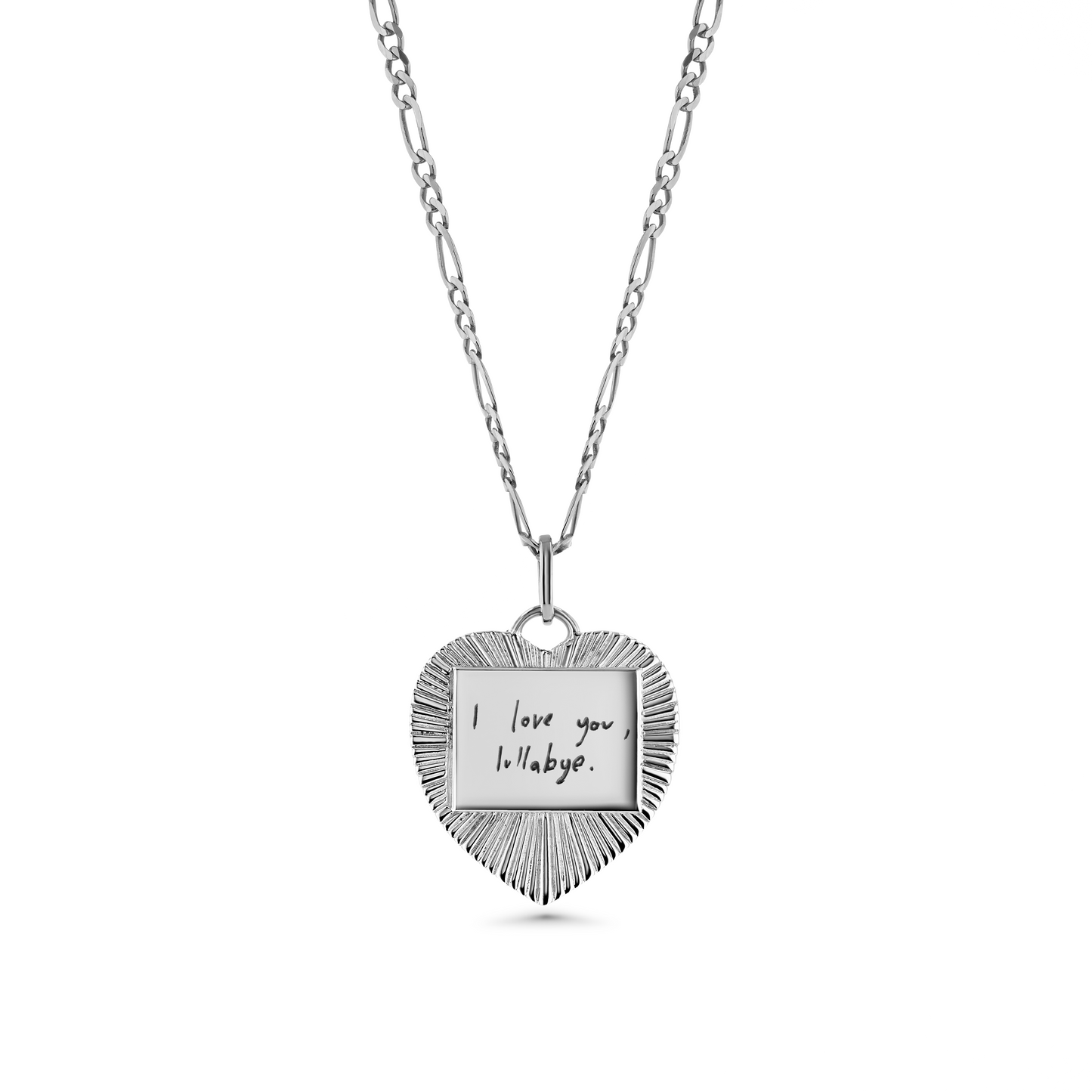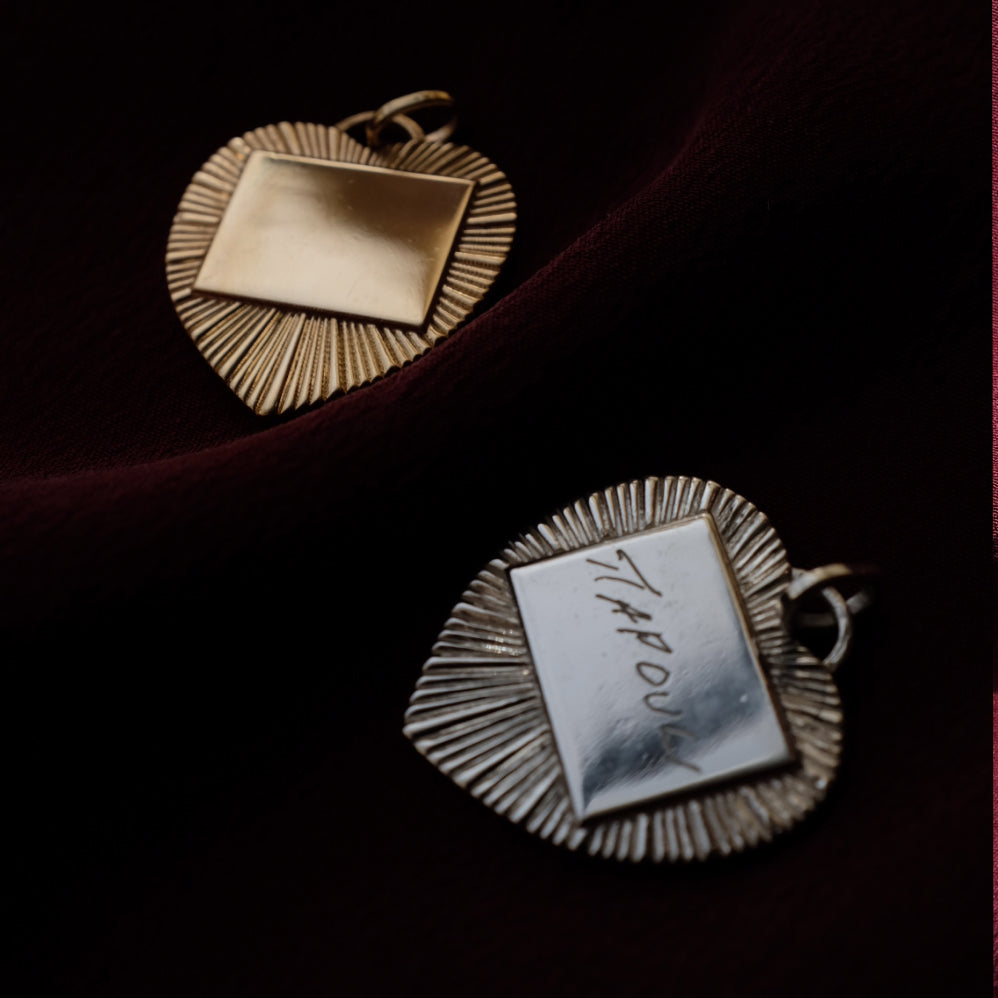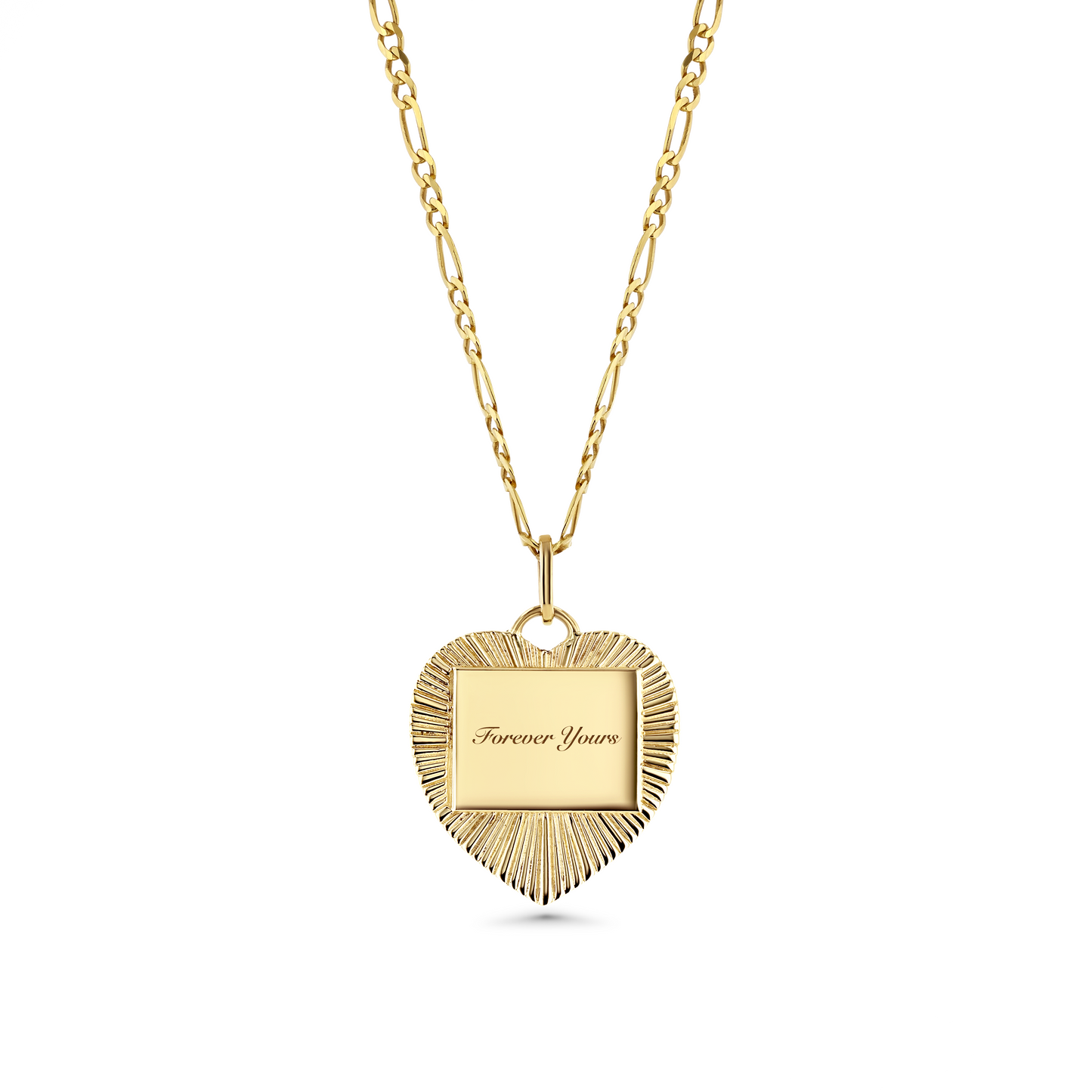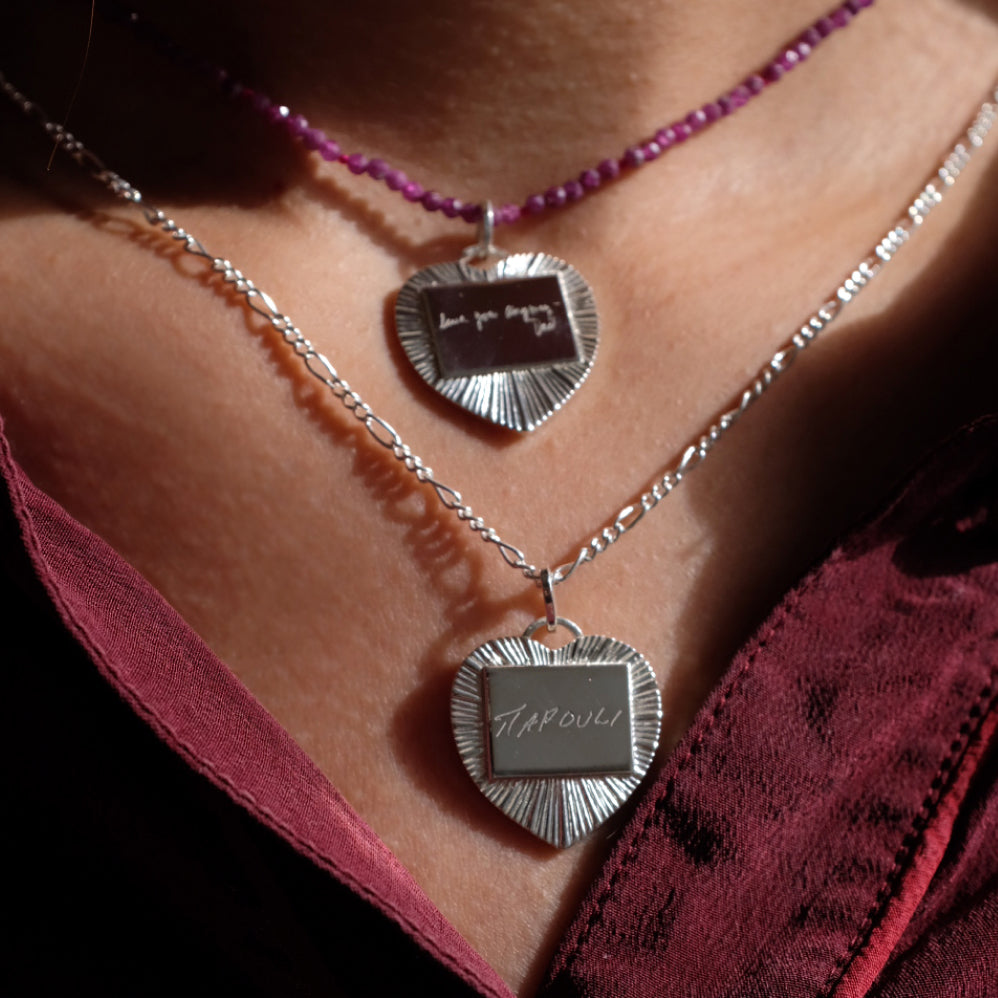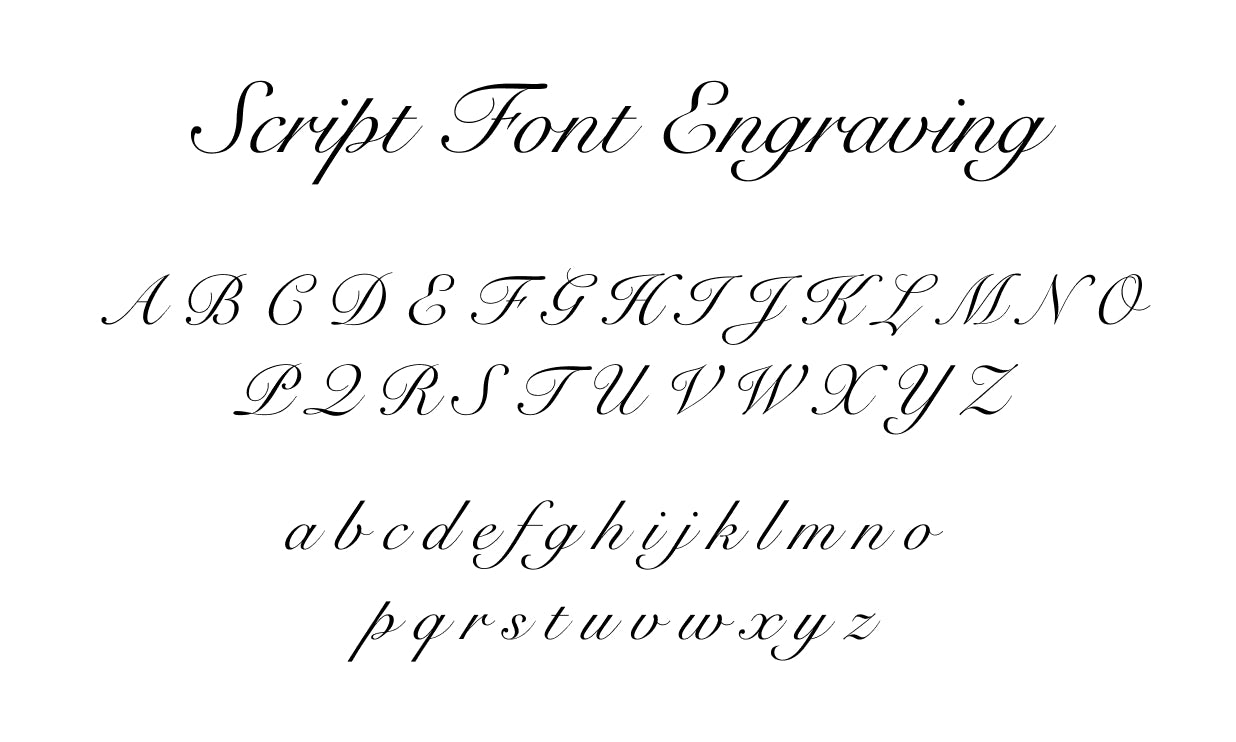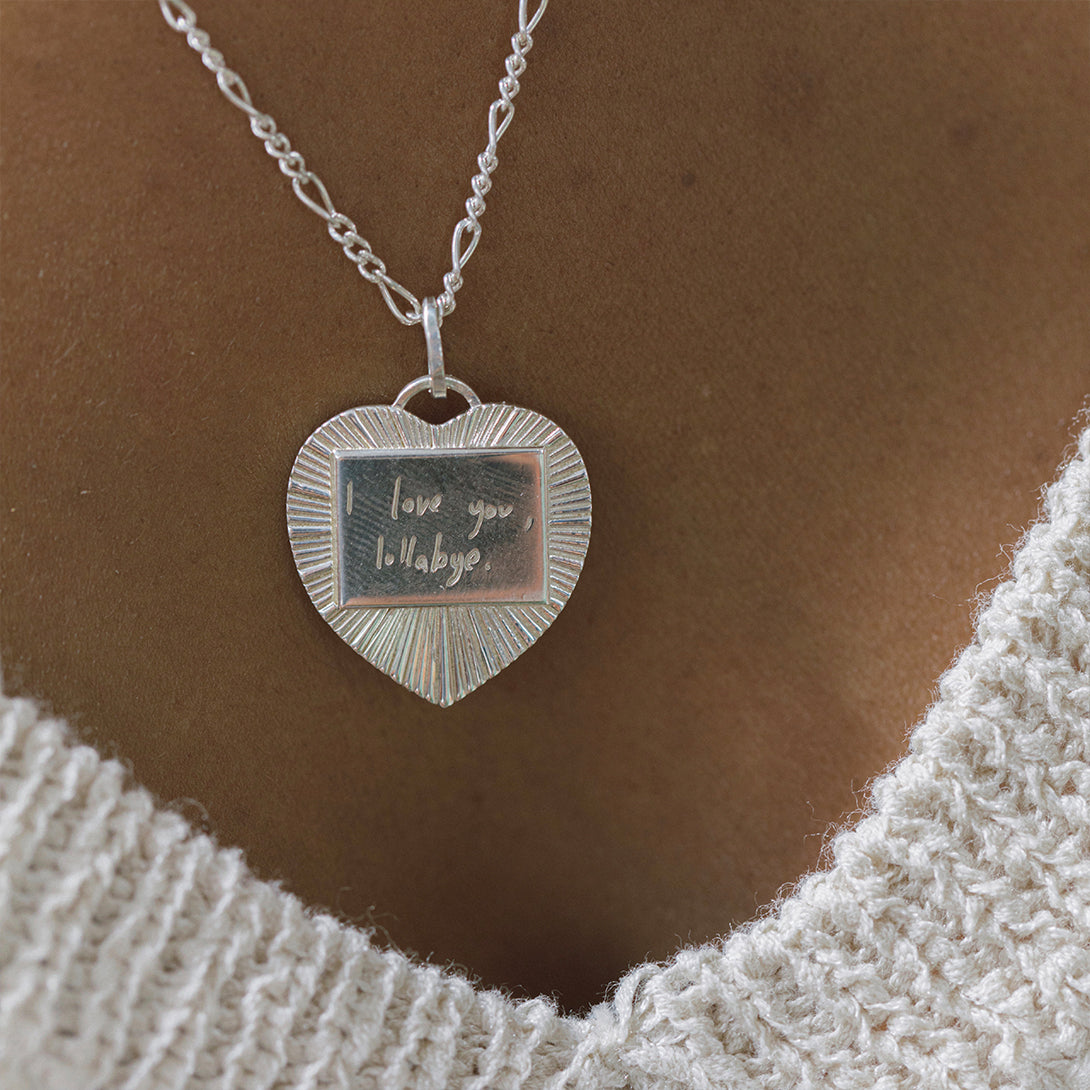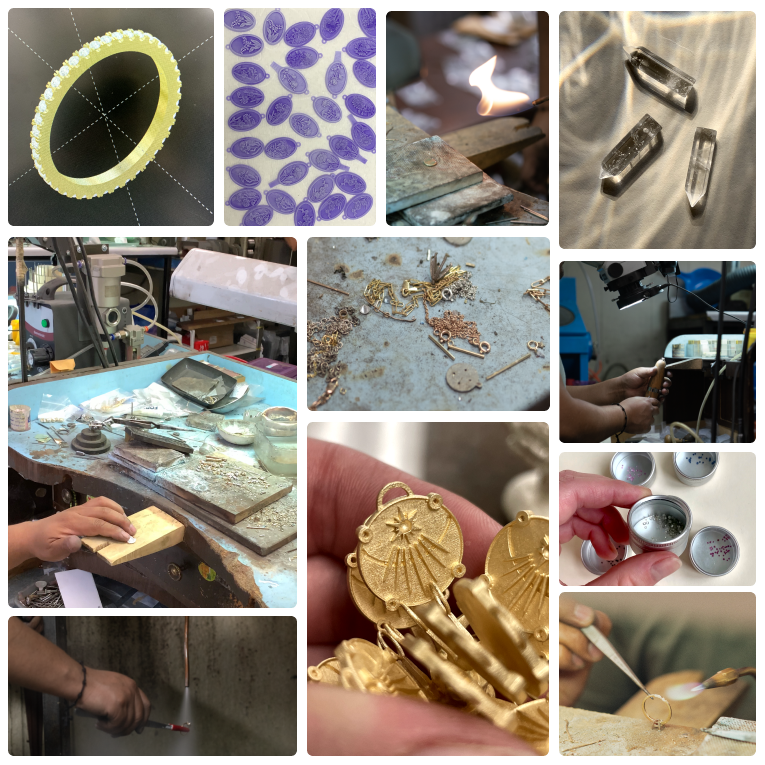 We are proud to say all of our jewelry is handmade in Downtown Los Angeles. Every little detail is done by hand, from refining old gold pieces, reclaiming diamonds, sketching, creating 3D CADs, printing wax models, making molds, lost wax casting with our recycled 14k gold, tumbling the metal casting, sanding, soldering, polishing, setting, engraving and finishing. Each piece is handled with care as it arrives to you, including folding every box, tying every ribbon, and shipping with services we trust.
MORE TO LOVE
Regular price

From $550.00

Regular price

Sale price

From $550.00

Unit price

per

Regular price

Sale price

$950.00

Unit price

per

Regular price

From $140.00

Regular price

Sale price

From $140.00

Unit price

per

Regular price

From $360.00

Regular price

Sale price

From $360.00

Unit price

per

Regular price

From $880.00

Regular price

Sale price

From $880.00

Unit price

per

Regular price

From $3,940.00

Regular price

Sale price

From $3,940.00

Unit price

per

Regular price

Sale price

$600.00

Unit price

per

Regular price

From $1,570.00

Regular price

Sale price

From $1,570.00

Unit price

per

Regular price

From $250.00

Regular price

Sale price

From $250.00

Unit price

per

Regular price

From $200.00

Regular price

Sale price

From $200.00

Unit price

per

Regular price

From $115.00

Regular price

Sale price

From $115.00

Unit price

per

Regular price

From $180.00

Regular price

Sale price

From $180.00

Unit price

per

Regular price

From $690.00

Regular price

$520.00

Sale price

From $690.00

Unit price

per

Regular price

From $610.00

Regular price

Sale price

From $610.00

Unit price

per

Regular price

Sale price

$540.00

Unit price

per

Regular price

From $400.00

Regular price

Sale price

From $400.00

Unit price

per

Regular price

From $370.00

Regular price

Sale price

From $370.00

Unit price

per

Regular price

From $640.00

Regular price

Sale price

From $640.00

Unit price

per

Regular price

From $570.00

Regular price

Sale price

From $570.00

Unit price

per

Regular price

From $490.00

Regular price

Sale price

From $490.00

Unit price

per

Regular price

From $610.00

Regular price

Sale price

From $610.00

Unit price

per

Regular price

From $2,980.00

Regular price

$520.00

Sale price

From $2,980.00

Unit price

per

Regular price

From $370.00

Regular price

Sale price

From $370.00

Unit price

per

Regular price

From $410.00

Regular price

Sale price

From $410.00

Unit price

per

Regular price

From $400.00

Regular price

Sale price

From $400.00

Unit price

per

Regular price

From $610.00

Regular price

Sale price

From $610.00

Unit price

per

Regular price

From $504.00

Regular price

$630.00

Sale price

From $504.00

Unit price

per

Regular price

From $140.00

Regular price

Sale price

From $140.00

Unit price

per

Regular price

From $610.00

Regular price

Sale price

From $610.00

Unit price

per

Regular price

From $170.00

Regular price

Sale price

From $170.00

Unit price

per

Regular price

From $370.00

Regular price

Sale price

From $370.00

Unit price

per

Regular price

From $610.00

Regular price

Sale price

From $610.00

Unit price

per

Regular price

From $610.00

Regular price

Sale price

From $610.00

Unit price

per

Regular price

From $610.00

Regular price

Sale price

From $610.00

Unit price

per

Regular price

From $610.00

Regular price

Sale price

From $610.00

Unit price

per

Regular price

From $610.00

Regular price

Sale price

From $610.00

Unit price

per

Regular price

From $400.00

Regular price

Sale price

From $400.00

Unit price

per

Regular price

From $610.00

Regular price

Sale price

From $610.00

Unit price

per

Regular price

From $530.00

Regular price

Sale price

From $530.00

Unit price

per

Regular price

From $610.00

Regular price

Sale price

From $610.00

Unit price

per

Regular price

From $370.00

Regular price

Sale price

From $370.00

Unit price

per

Regular price

From $380.00

Regular price

Sale price

From $380.00

Unit price

per

Regular price

From $610.00

Regular price

Sale price

From $610.00

Unit price

per

Regular price

From $320.00

Regular price

Sale price

From $320.00

Unit price

per

Regular price

From $370.00

Regular price

Sale price

From $370.00

Unit price

per

Regular price

From $610.00

Regular price

Sale price

From $610.00

Unit price

per

Regular price

From $380.00

Regular price

Sale price

From $380.00

Unit price

per