SUNDIAL CHARM by Conscious Commerce
Regular price
Sale price
$650.00
Unit price
per
YOUR CHAIN: NO CHAIN
YOUR METAL: 14K YELLOW GOLD
ENGRAVING: NO
YOUR ENGRAVING TEXT:
DESCRIPTION

The Sundial Charm is a collaboration between Starling Jewelry x Conscious Commerce. Conscious Commerce, founded by Olivia Wilde & Babs Burchfield is dedicated to creating dynamic campaigns and experiences that connect non-profit foundations to sustainable business models. Our collaboration is one of the first pieces of jewelry made using 100% SCS certified post-consumer recycled materials - diamonds, 14k gold and sterling silver.

Sundials have been used for thousands of years to mark the passing day. Traditionally sundials were engraved with mottos. Each charm comes with a gold foil post card with the French motto, "et pourtant elle tourne," which means "and yet she turns." Your charm can be custom engraved with your own motto or dedication. May this sundial bring together the past and present, and point you towards a bright future.

40% of profits from each charm will be directly donated to St. Luke Foundation for Haiti, providing aid for third wave COVID, internal refugee violence and earthquake relief.

*Product not eligible for any promotional discount codes
DIMENSIONS

15.5mm Round Charm. Engraving is in script font only, engraved charms are not returnable.
NATURAL GEMSTONE

6 SCS Certified post-consumer recycled diamonds, 0.089-0.091tcw, on each 14k yellow gold charm. 2 SCS Certified post-consumer recycled diamonds, 0.029-0.31tcw on each sterling silver charm.
METAL

2.45-2.6g SCS Certified Post-Consumer Recycled 14k Solid Yellow Gold or Sterling Silver. Exclusive of chain.
CARE

14K Gold:
Solid 14-karat gold can sustain daily wear and will generally not tarnish. Clean with an organic cleaning solution, rinse with warm water, air dry and polish with a lint-free polishing cloth.

Sterling Silver:
Solid sterling silver can be worn daily, but it may tarnish with exposure to sun and water over time. Bring it back to its original shimmer with a lint-free polishing cloth. Never store wet or damp silver in a tight enclosure.
Learn more about caring for metals here.
SHIPPING & RETURNS

Shipping Policy:

- Free USPS (5 business days) shipping on domestic orders $200+  

- International shipping available to select countries!

- Orders over $200 require signature for delivery.

- Most of our pieces are handmade to order just for you. Our stock pieces usually take 1-2 weeks to make. Any order with engraving or personalized stone arrangements usually take 2-3 weeks to make. Bespoke Gems and custom orders typically take 6-8 weeks before shipping.

Rush orders or in stock items may ship faster, please email hello@starlingjewelry.com for availability.  

Return Policy:

- All engraved or custom pieces, bespoke gems, one of a kind pieces, compass charms, sample sale or international orders are final sale.

- 10-Day Returns/Exchanges For Domestic Orders ($10 return shipping fee)

For more detailed information on our shipping & returns policy, click here!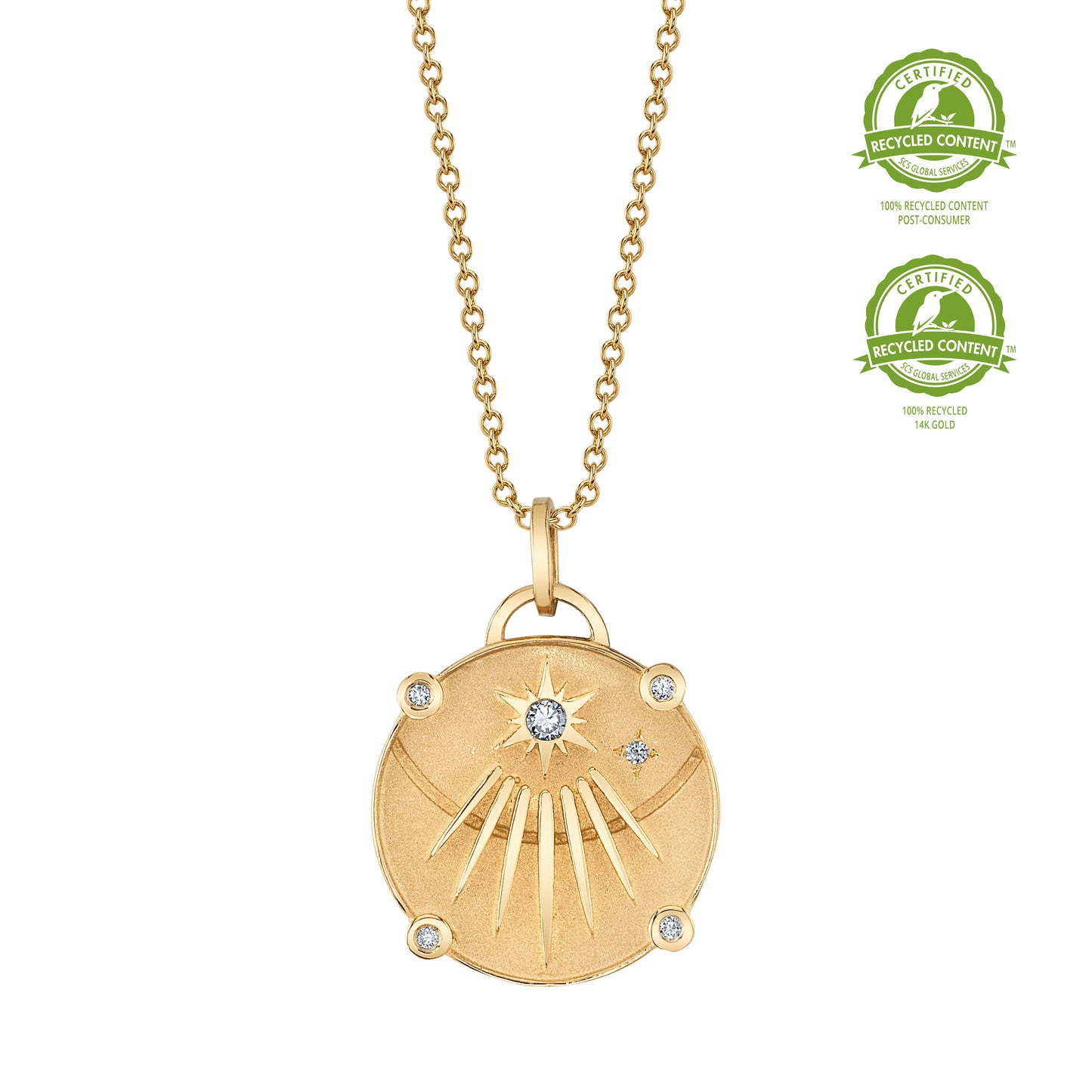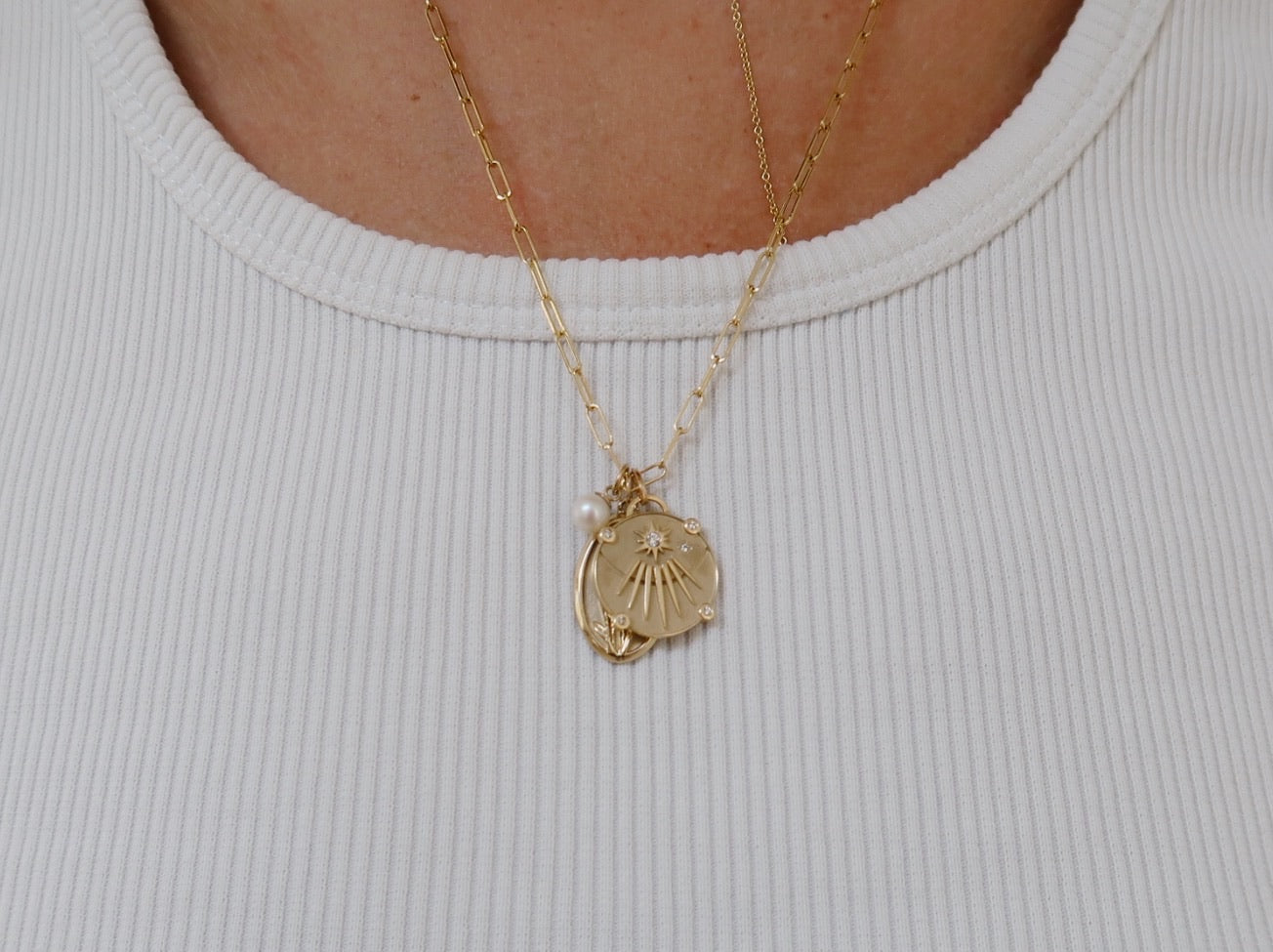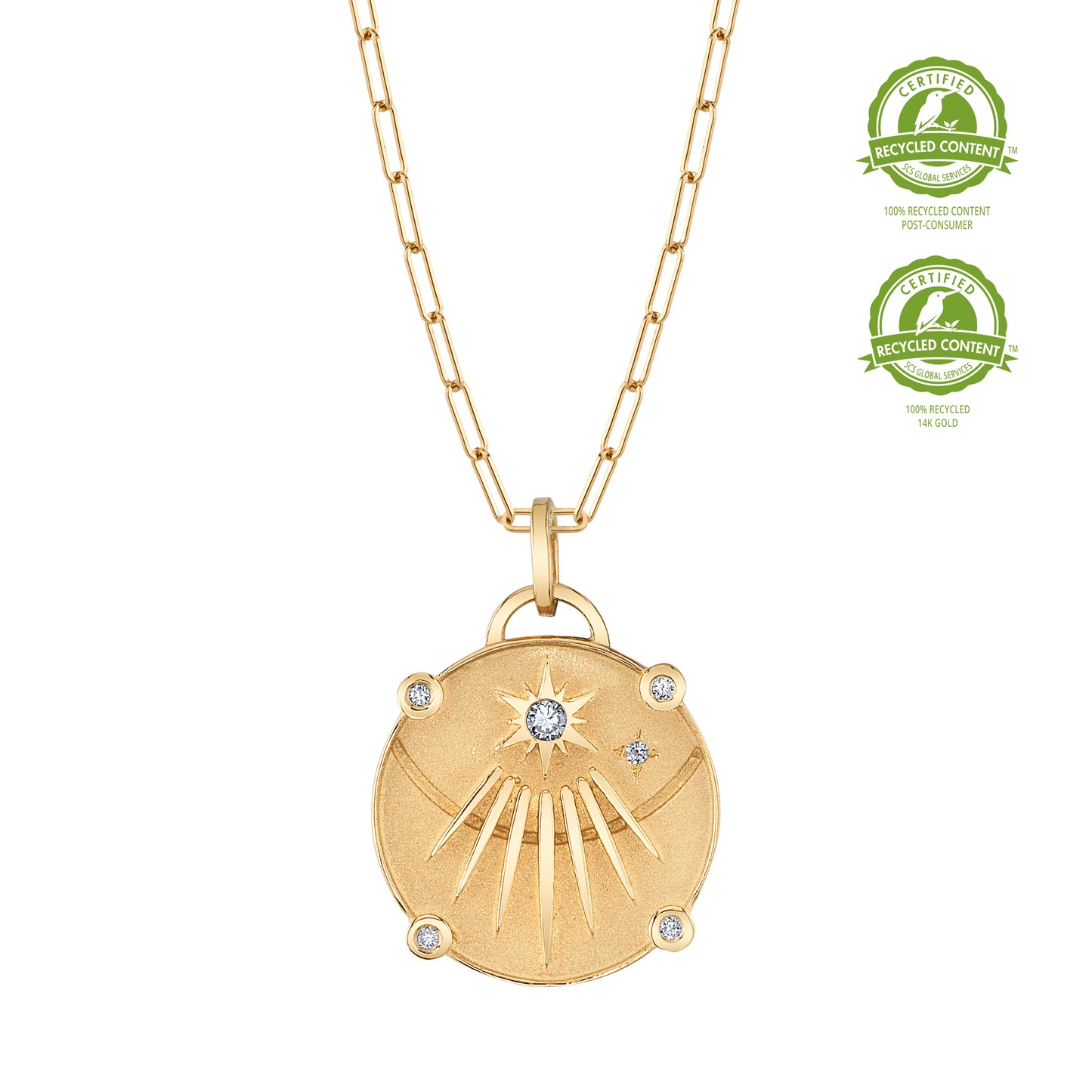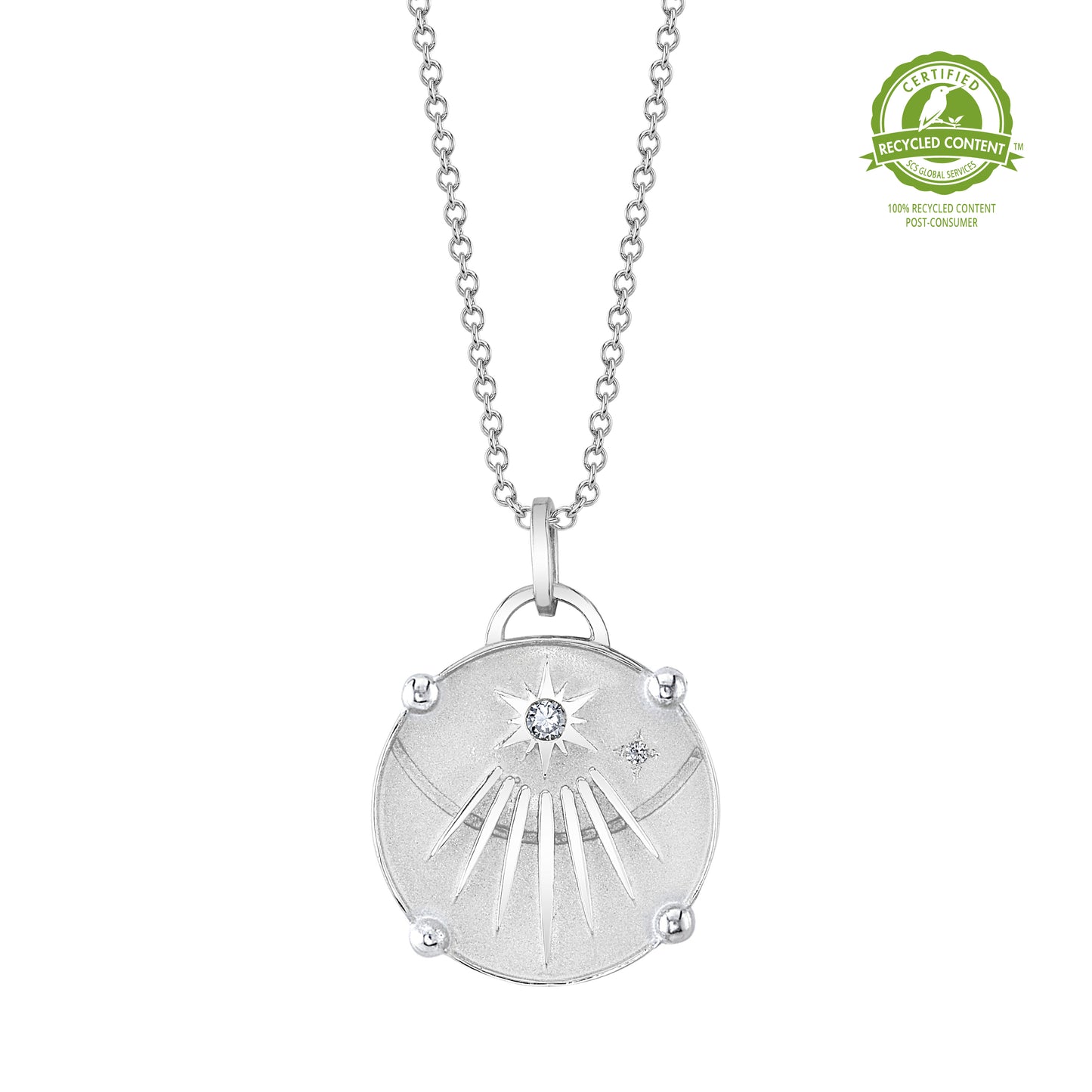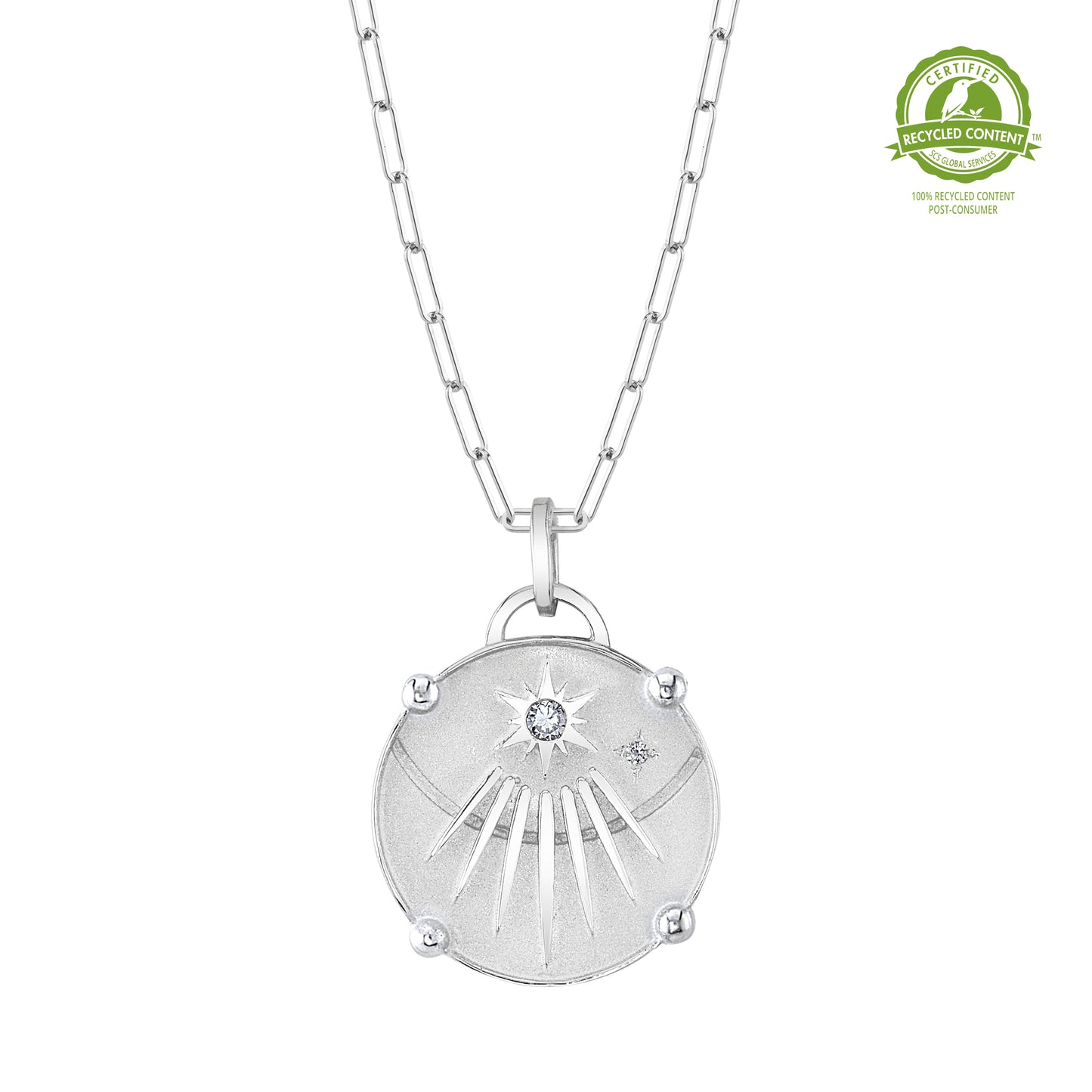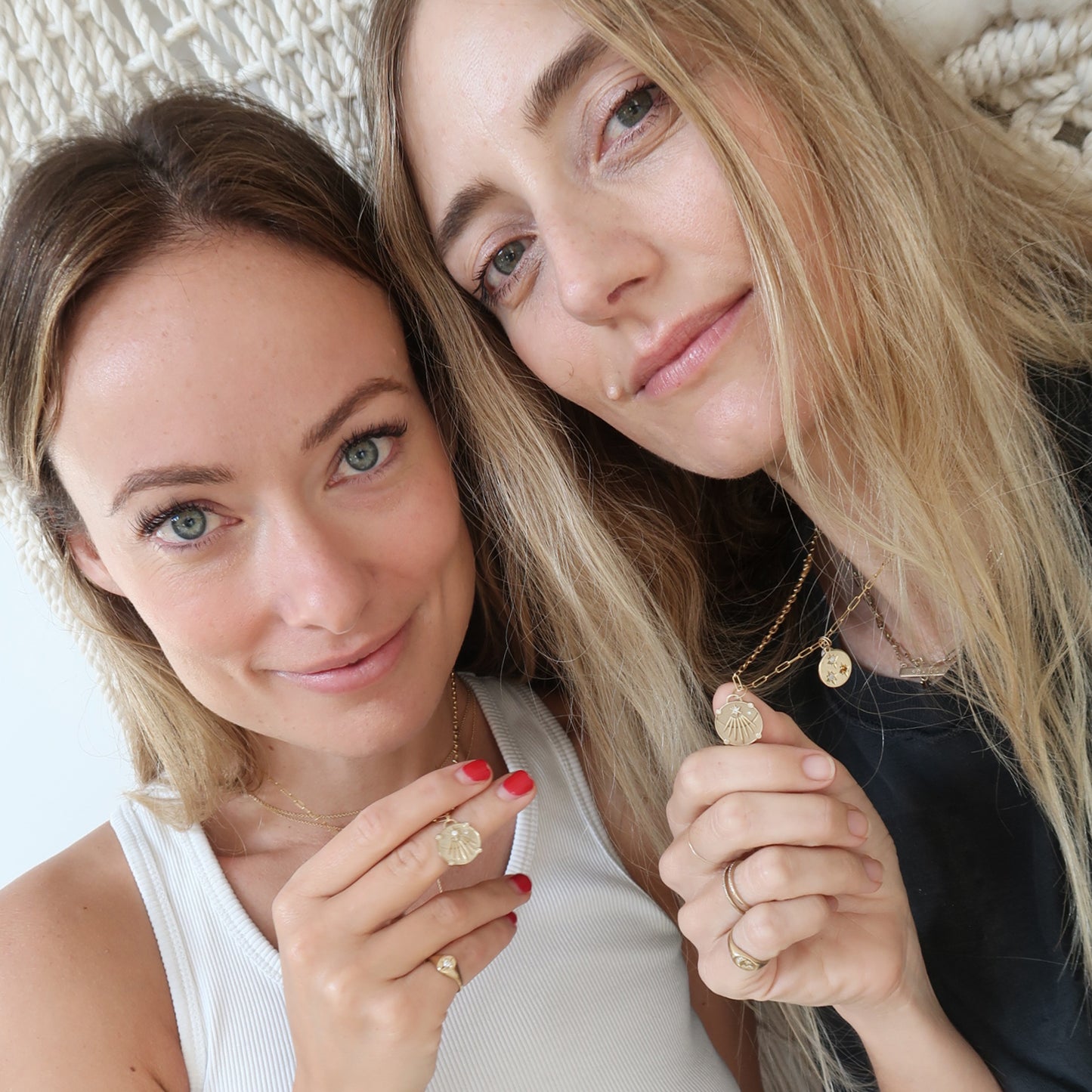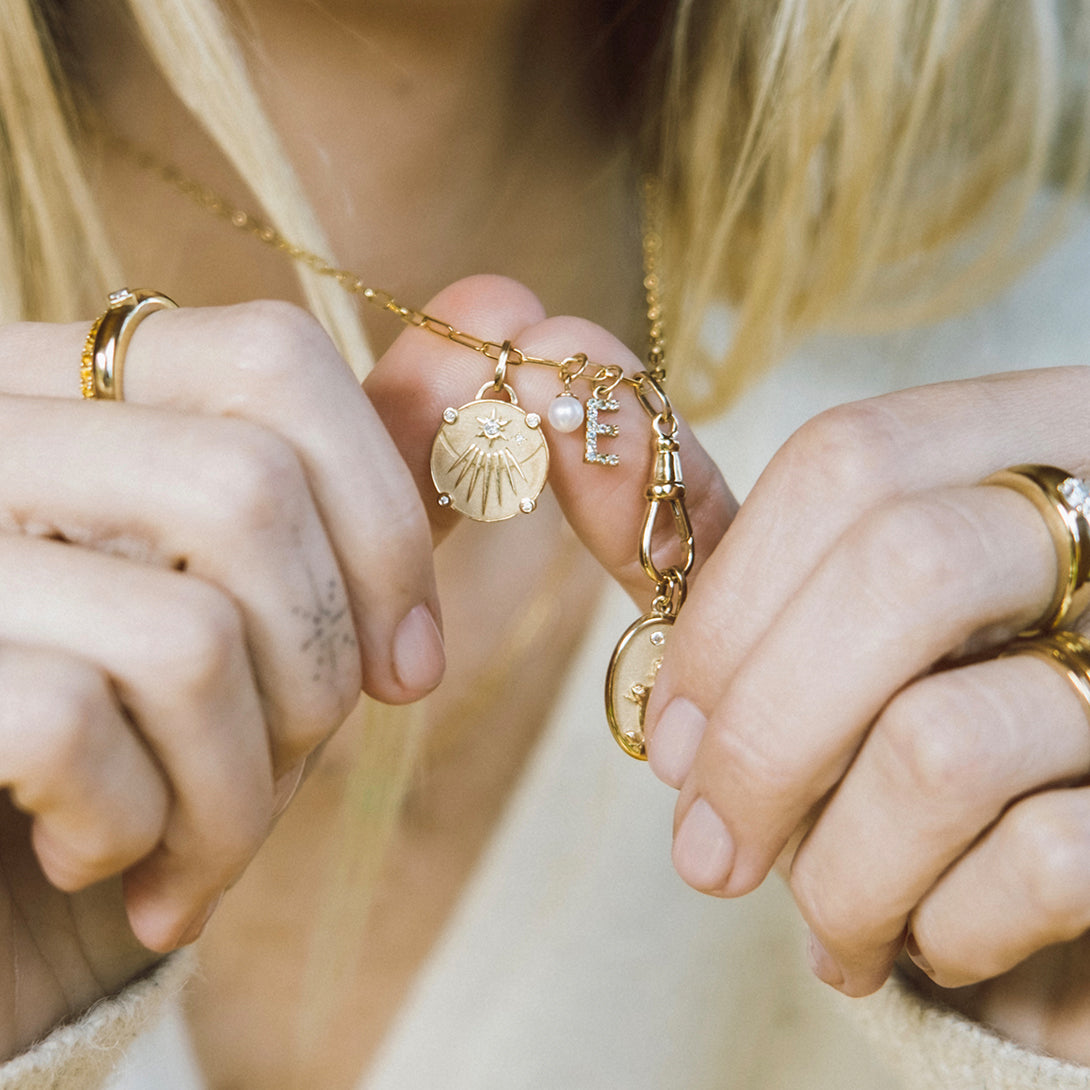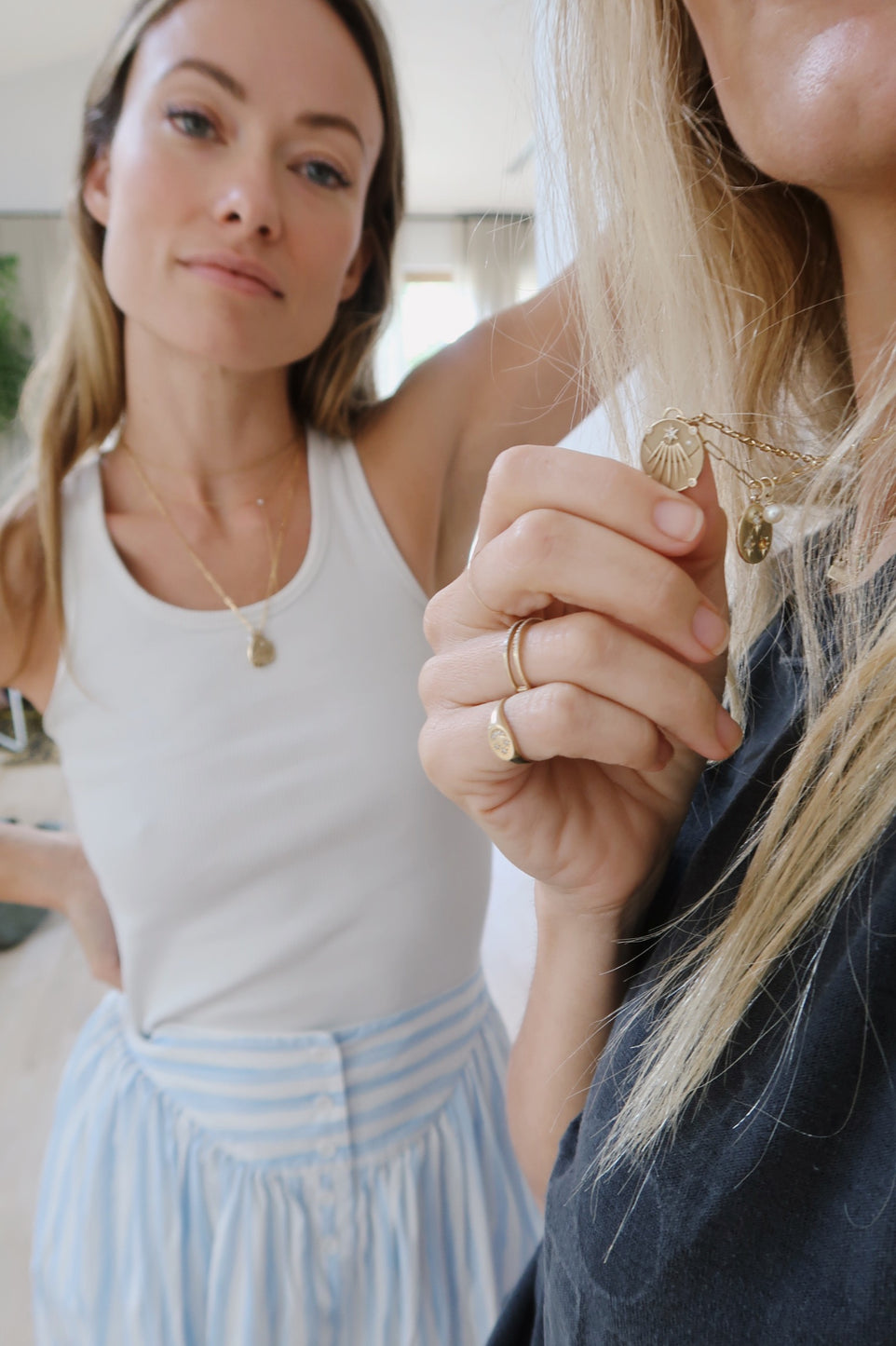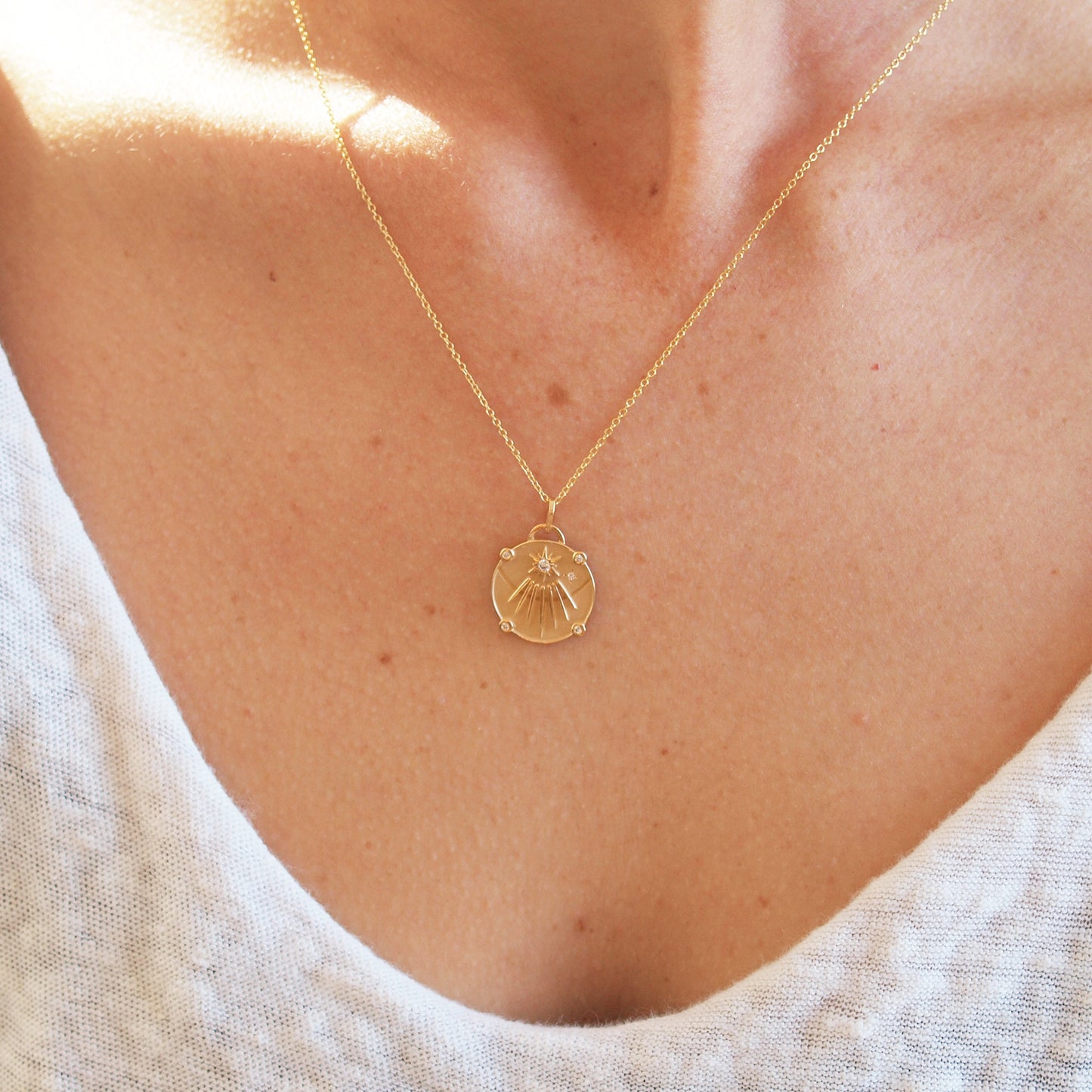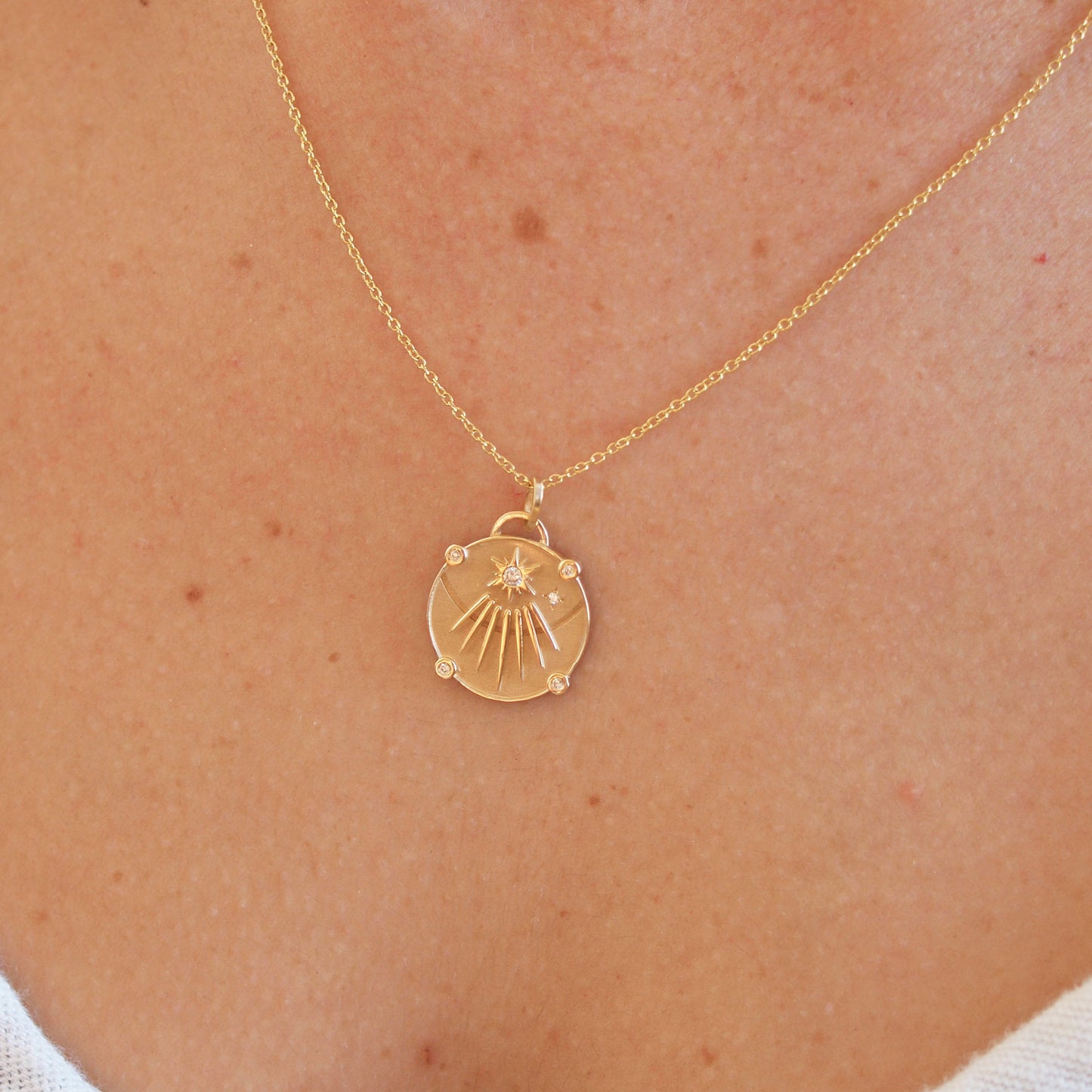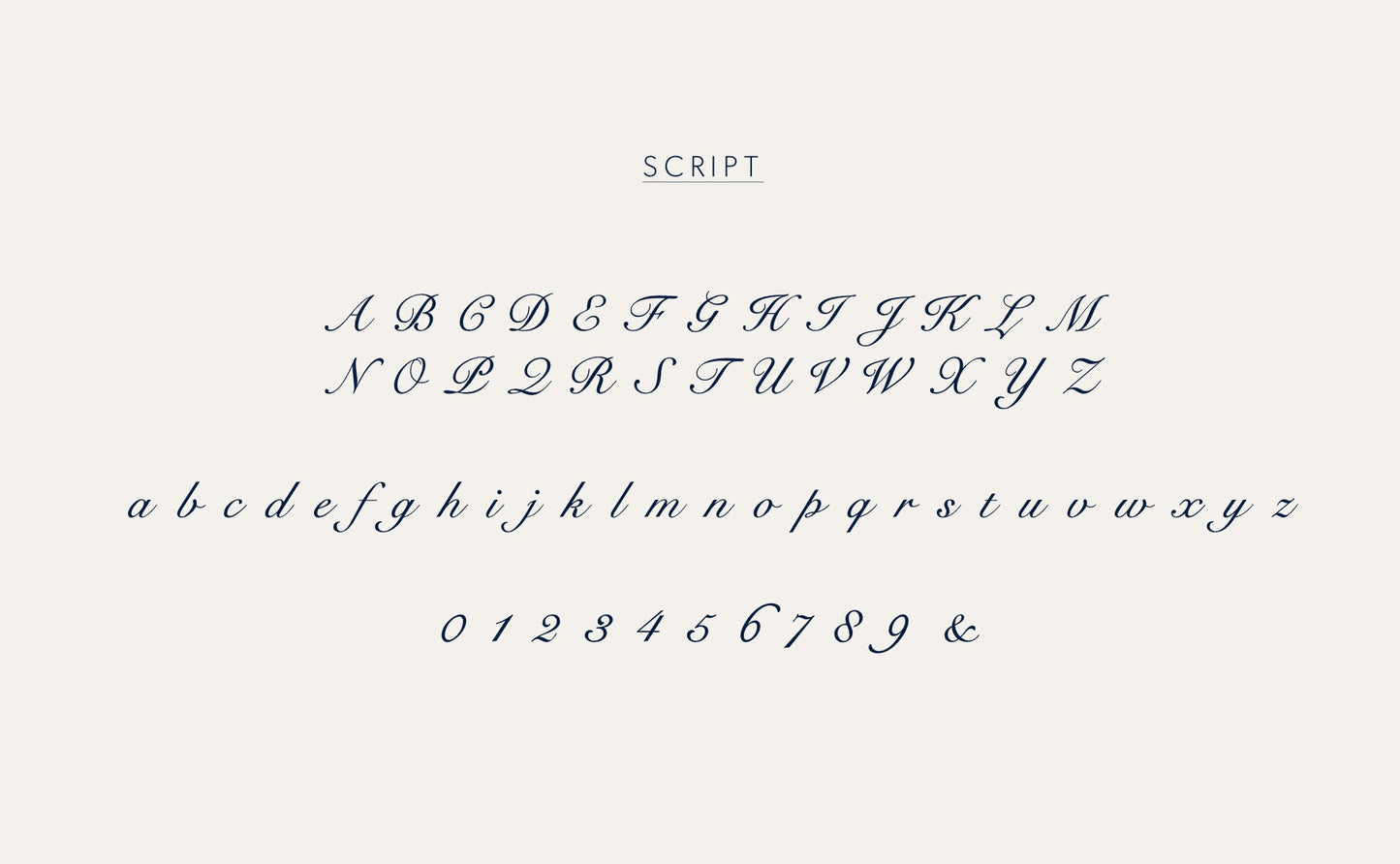 Customer Reviews
Love it!
The Sundial charm is a really nice piece. I love the design, size and sparkle of the little diamonds as well as the fact that the entire piece is made from recycled materials. I paired it with the moon charm and they look great together. I'm a fan of Starling jewelry!
01/22/2022
Jennifer S.

United States
Beautiful
I love the sundial. It looks gorgeous!
12/10/2021
Patricia N.

United States
Charmed!
From mission to order to packaging to price to product…I was completely charmed and delighted by my jewelry and this wonderful company! I hope to collect more wonderful pieces over time to pass on to friends and family. You had me at sustainability! Bravo lovelies! Customer for life xoxo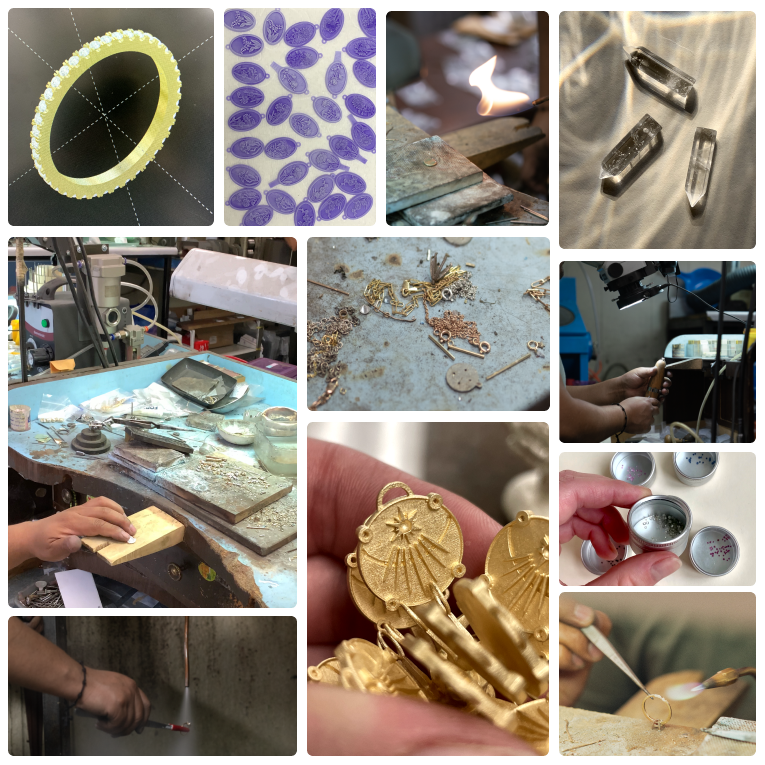 We are proud to say all of our jewelry is handmade in Downtown Los Angeles. Every little detail is done by hand, from refining old gold pieces, reclaiming diamonds, sketching, creating 3D CADs, printing wax models, making molds, lost wax casting with our recycled 14k gold, tumbling the metal casting, sanding, soldering, polishing, setting, engraving and finishing. Each piece is handled with care as it arrives to you, including folding every box, tying every ribbon, and shipping with services we trust.
MORE TO LOVE
Regular price

Sale price

$220.00

Unit price

per

Regular price

From $350.00

Regular price

Sale price

From $350.00

Unit price

per

Regular price

From $550.00

Regular price

Sale price

From $550.00

Unit price

per

Regular price

From $360.00

Regular price

Sale price

From $360.00

Unit price

per

Regular price

From $140.00

Regular price

Sale price

From $140.00

Unit price

per

Regular price

From $1,120.00

Regular price

Sale price

From $1,120.00

Unit price

per

Regular price

From $1,380.00

Regular price

Sale price

From $1,380.00

Unit price

per

Regular price

From $1,500.00

Regular price

Sale price

From $1,500.00

Unit price

per

Regular price

Sale price

$2,700.00

Unit price

per

Regular price

Sale price

$950.00

Unit price

per

Regular price

From $880.00

Regular price

Sale price

From $880.00

Unit price

per

Regular price

From $3,940.00

Regular price

Sale price

From $3,940.00

Unit price

per

Regular price

Sale price

$600.00

Unit price

per

Regular price

From $1,570.00

Regular price

Sale price

From $1,570.00

Unit price

per

Regular price

From $250.00

Regular price

Sale price

From $250.00

Unit price

per

Regular price

From $200.00

Regular price

Sale price

From $200.00

Unit price

per

Regular price

From $115.00

Regular price

Sale price

From $115.00

Unit price

per

Regular price

From $180.00

Regular price

Sale price

From $180.00

Unit price

per

Regular price

From $690.00

Regular price

$520.00

Sale price

From $690.00

Unit price

per

Regular price

From $610.00

Regular price

Sale price

From $610.00

Unit price

per

Regular price

Sale price

$540.00

Unit price

per

Regular price

From $400.00

Regular price

Sale price

From $400.00

Unit price

per

Regular price

From $370.00

Regular price

Sale price

From $370.00

Unit price

per

Regular price

From $640.00

Regular price

Sale price

From $640.00

Unit price

per

Regular price

From $570.00

Regular price

Sale price

From $570.00

Unit price

per

Regular price

From $490.00

Regular price

Sale price

From $490.00

Unit price

per

Regular price

From $610.00

Regular price

Sale price

From $610.00

Unit price

per

Regular price

From $2,980.00

Regular price

$520.00

Sale price

From $2,980.00

Unit price

per

Regular price

From $370.00

Regular price

Sale price

From $370.00

Unit price

per

Regular price

From $410.00

Regular price

Sale price

From $410.00

Unit price

per

Regular price

From $400.00

Regular price

Sale price

From $400.00

Unit price

per

Regular price

From $610.00

Regular price

Sale price

From $610.00

Unit price

per

Regular price

From $504.00

Regular price

$630.00

Sale price

From $504.00

Unit price

per

Regular price

From $140.00

Regular price

Sale price

From $140.00

Unit price

per

Regular price

From $610.00

Regular price

Sale price

From $610.00

Unit price

per

Regular price

From $170.00

Regular price

Sale price

From $170.00

Unit price

per

Regular price

From $370.00

Regular price

Sale price

From $370.00

Unit price

per

Regular price

From $610.00

Regular price

Sale price

From $610.00

Unit price

per

Regular price

From $610.00

Regular price

Sale price

From $610.00

Unit price

per

Regular price

From $610.00

Regular price

Sale price

From $610.00

Unit price

per

Regular price

From $610.00

Regular price

Sale price

From $610.00

Unit price

per

Regular price

From $610.00

Regular price

Sale price

From $610.00

Unit price

per

Regular price

From $400.00

Regular price

Sale price

From $400.00

Unit price

per

Regular price

From $610.00

Regular price

Sale price

From $610.00

Unit price

per

Regular price

From $530.00

Regular price

Sale price

From $530.00

Unit price

per

Regular price

From $610.00

Regular price

Sale price

From $610.00

Unit price

per

Regular price

From $370.00

Regular price

Sale price

From $370.00

Unit price

per